Joden Girl
Baubles, Bling, and a Wrap Around Ring
With only three shopping days left until Christmas, the holiday panic has set in!  Stores are filled with customers who just don't know what to buy!  Don't let it get you.  At Joden, we can solve all your gift-giving dilemmas.  We have perfect pieces for everyone on your list…  we'll even wrap it with a pretty bow!
Check out my pick for today… an absolutely adorable wrap ring.  This is not your mom's wrap ring…  instead, it's like a little hug for your finger.  Made from 14 karat rose gold, this piece is a play on a bypass ring.  One end features a lovely lavender colored amethyst nestled into a delicate halo comprised of twenty-eight round brilliant diamonds, while the other end is a tiny micro-pave diamond ball.  The 2.38-carat amethyst is specially cut with a checkerboard style faceting that adds to the modern feel of the ring.  The forty-seven diamonds that make up the two stations have a combined total weight of .12 carats.  It's the ideal amount of sparkle!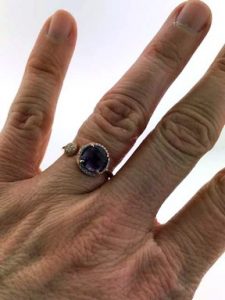 While I am crazy for both of these elements, the best part of this ring is the space between them.  Look at it on my hand (excuse my un-manicured nails!).  The tiny opening makes this ring.  It's everything!  
I'm sure you're wondering about the price, right?  I am delighted to tell you that this whimsical little beauty is priced at just $550.  It's definitely budget friendly, and it's available now at Joden Jewelers.  
"You can go to a museum and look, or come to Joden and touch."
Photos and writing by Carrie Martin