Joden Girl
Baubles, Bling and Holiday Things
Just a couple days ago, I woke up to a winter wonderland… a soft pillow-y blanket of snow covered everything in sight.  That clinched it – the holidays are nearly here.  Let the shopping begin!   
With a year like 2020, I have to wonder what that might look like.  I am a BIG fan of Black Friday and have eagerly gone out in the wee hours of the morning year after year in search of the perfect gifts and the best bargains.  Doorbuster deals draw budget-conscious buyers by the thousands.  Many retailers are prepping for online sales – definitely a smart bet.  
At Joden, we're offering a hybrid model…  a little bit of everything!  Dana has been loading the website with new arrivals and Pick of the Week values.  Our Instagram and Facebook pages are overflowing with vintage treasures and modern gems.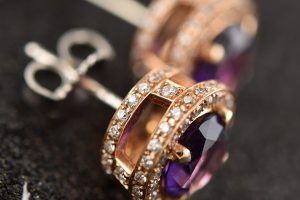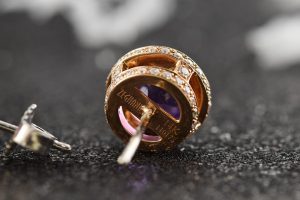 Earrings are always a popular choice; this week, we have three pair sure to please anyone on your list.  I am loving this unbeatable combination of 14 karat rose gold with rich purple amethysts.  These stud-style earrings are anything but simple.  One hundred and twenty-eight round brilliant diamonds surround those bright center stones in perfect halos for a combined weight of .40 carat.  Signed "Zeghani", these beauties are available for just $880.00.
Next up – a unique twist on the classic halo design.  These 14 karat white gold sparklers feature a lovely pair of emerald cut green tourmaline centers.  These deep green stones are ensconced within a rectangular ring of diamonds complete with a small diamond cap.  There are fifty diamonds in all for a combined weight of .50 carat.  Add a bit of sparkle to your earlobes with these charmers for just $980.00.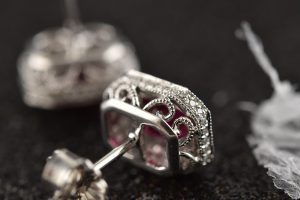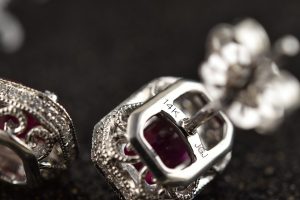 The elegant setting on these 14 karat white gold ruby earrings is everything.  Tiny beaded swirls create a vintage-inspired filigree look complete with not one but two diamond halos…  one on the top and another on the outer edge!  This attention to detail is exactly what makes these earrings shine.  These precious gems bring the bling for $1700.00.
These new arrivals haven't made our website just yet… for more information, stop in to our 144 South Broad Street showroom.  Or, you could take advantage of our latest service…  a personal shopper.  Holiday Concierge Service is available at the click of a button.  Our experts will send full color photos, detailed descriptions and pricing to your phone or email.  We'll box, gift-wrap and ship your Joden gifts anywhere in the United States at no additional charge!  
Call 1-800-747-7552
email: joden@joden.com
Text 724-699-1932
"You can go to a museum and look or come to us and touch."
Written by Carrie Martin
Photos by Dana Jerpe