Joden Girl
Baubles, Bling, and A Collector's Things
After nearly 50 years in business, Joe still handpicks each piece that makes its way into the dazzling array of gems and baubles filling the showcases at Joden.  From the finest antiques to brand new trends, Joe has an undeniable eye for style.  Just the other day, a package arrived with a few new bits for holiday shoppers… a charming stack of colorful eternity bands, a wide openwork diamond ring, and this…
Oh.  My.  Gee.  This striking beauty was zipped into a tiny clear plastic bag nestled among a dozen other pieces strewn across the white sorting pad on Joe's desk.  Casually resting between random doodles and scribbled notes, there it was… a blue topaz and diamond dreamboat.  
An elongated emerald cut Swiss Blue Topaz sits parallel with the length of your finger in this 14 karat white gold stunner.  This bright stone is accented by a delicate halo of round brilliant diamonds and a pair of straight baguette cut diamonds that flank the center stone.  More round diamonds wink from each shoulder.  It positively screams classic elegance.  It's hard to believe that this is a modern manufactured piece.  It's even harder to believe that it sells for just $800!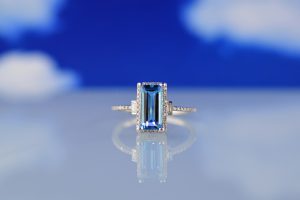 This beauty won't last long…  in fact, I bet it doesn't last the week.  As soon as I take it off my hand and put it in the showcase, that is! 
"You can go to a museum and look, or come to Joden and touch."
Photos and writing by Carrie Martin