Joden Girl
Baubles, Bling, and A Collector's Things
Antique jewelry often needs to be admired from more than one angle.  Artisans hand-crafted each piece with a passion for detail and design.  A gorgeous Siberian Amethyst weighing 14.50 carats brings a bright burst of color to this Art Nouveau charmer.  And while it is truly captivating, it's not the star of this show.  This is one piece best enjoyed from behind…  it is simply stunning.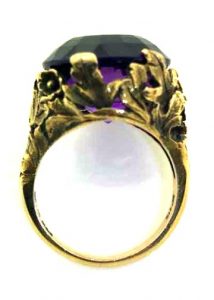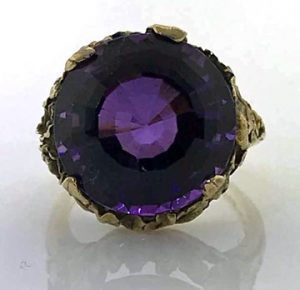 Art Nouveau jewelry is a celebration of nature and the female form.  This ring is wholly dedicated to botanical beauty.  Three dimensional articulated leaves and flowers entwine to create a haven for the deep purple gem.  The free-thinking craftsmen of the late 19th century were not fixated on symmetry but rather on the ambiance or feeling evoked by the jewel.  Therefore, it's no surprise that one side of this ring has but a single blossom while the other has a trio of blooms.  A dark natural patina has developed in the veins of each leaf and the base of each petal adding yet another dimension to this decadent antique ring.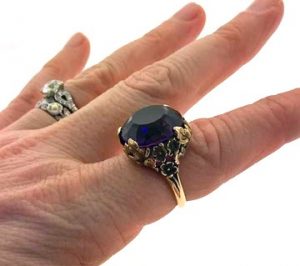 This is exactly the kind of ring that Joe tucks into his special box.  It has everything…  antique appeal, glorious color, superb craftsmanship, and unmistakable uniqueness.  Rings like this don't come around very often, and when they do…  Joe has a tendency to squirrel them away!  So, when you visit us at Joden – be sure to ask about Joe's Special Box and the treasures that hide there.
"You can go to a museum and look, or come to Joden and touch."
Writing and photos by Carrie Martin