Joden Girl
Baubles, Bling, and A Collector's Things
This ring bewitched my from the moment I slid it on my finger.  I could not bring myself to take it off, it's that good!  Yellow gold filigree, what more do I need to say?  
We have customers looking for filigree rings all the time – they are the most popular, highly sought after vintage pieces in our inventory.  Customers are crazy for these delicate lacy gems.  The more intricate the pattern, the more they like it.  These Edwardian and Art Deco treasures are nearly always made from white gold or platinum.  So, if you're a sucker for yellow gold…  you're out of luck.  Usually.  
I stumbled across this little beauty on a tray in Joe's office.  Immediately, I scooped it up and put it on.  LOVE!  Just check out that 18 karat yellow gold wirework.  It swirls.  It curls.  It makes me smile.  The center is bright blue; a synthetic cabochon sapphire flanked by a pair of European cut diamonds that have a combined weight of .45 carat.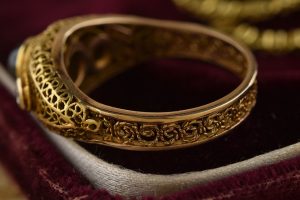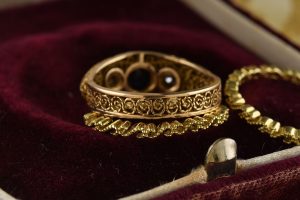 While it is fantastic on it's own…  stack it up with this pair of dainty bands made from a series of "S" shaped links – the result is magical.  The sapphire ring is not antique, but definitely vintage – it was made in the 1940's with all the style and flair of the Edwardian era.  This beauty is priced at just $1,500.  It's perfect as a right-hand ring or a non-traditional engagement ring.  Those 18 karat yellow gold bands are a steal for just $600!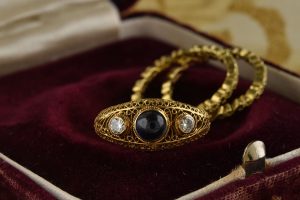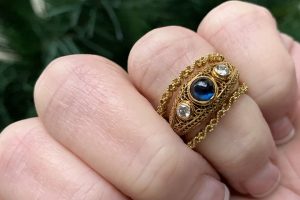 Everyone needs a little magic in their life… get yours at Joden Jewelers.  Call us at 800-747-7552 to purchase.
"You can go to a museum and look, or you can come to us and touch."
Written by Carrie Martin
Photos by Dana Jerpe