Joden Girl
Baubles, Bling, and Shapely Things
Just when I think that the halo craze must surely be coming to an end…  a new twist enters the game and we're off and running again.  There is no question that fancy-shaped center stones have been on FIRE this year.  In fact, the marquise cut was predicted to be THE shape for 2019.  We added our two cents to that prophecy with A Queen Returns back in February.  With fall on the horizon, I am tentatively throwing in the towel on that one.  While we definitely sold a marquise here and there, the real star of the show this year has been the pear.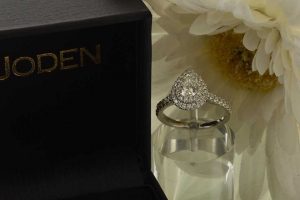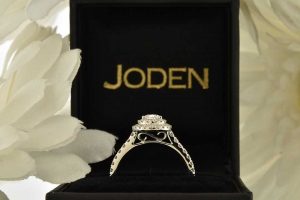 Much as I hate to admit it, even I have been a smitten kitten where this modern double-halo engagement ring is concerned.  It goes against everything I usually like…  but it's just so sparkly!  I am powerless to resist it.  A dazzling white pear brilliant cut diamond sits center stage in this 18 karat white gold contemporary beauty.  Weighing .48 carat, this diamond packs a punch.  It is surrounded by not one but two diamond halos created from fifty-one round diamonds that wrap around the center then cascade down the shoulders.  The side stones add an additional .45 carat to this ring, bringing the total diamond weight to .93 carat.  Priced at just $2,150, this is A LOT of look for the money.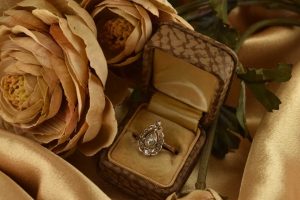 Shortly after I discovered the shiny new ring shown above, I stumbled across this tarnished old gem.  Featuring a rose-cut pear-shaped diamond, this 9 karat yellow gold stunner was handcrafted nearly 200 years ago.  It's Georgian, made in the 1830's.  Twelve additional rose cut diamonds add another layer of subtle shine to this understated piece.  The total diamond weight comes in at just over a half carat, .55 to be exact.  Each nook and cranny of the softly scalloped edge is rich with a dark patina, achieved solely with age.  It shimmers with quiet beauty for just $925.  
And so I ask you the same question I have been asking myself…  which one will it be?  Are you drawn glossy shine of the new ring or do you covet the gleaming glow of the antique bauble?  Cast your vote on our Instagram post!  
You can go to a museum and look, or you can come to Joden and touch.
Written by Carrie Martin
Photos by Dane Jerpe