Joden Girl
Baubles, Bling, and 2019 Things
It's February and the trends for 2019 are popping up everywhere…  I've seen and heard them all; colored stone trim set in bold yellow gold (how very 1985!), mixed metals – platinum and 18 karat yellow gold is my fave, and the biggest craze from this year is the comeback of the marquise diamond.  This elongated, elegant beauty will once again reign supreme!
The bridal set shown here is a real showstopper – I've fallen a little in love with it.  Even now, as my fingers strike the keys, it's standing tall and proud on my ring finger (I need to wear it for inspiration, right?)!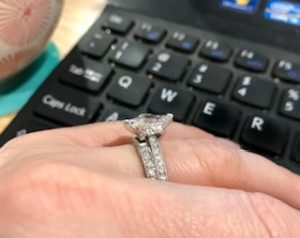 I have to say, this pair of rings is spectacular from every angle.  The engagement ring features a double loop design that lifts the center diamond to dazzling heights.  And what a diamond it is…  this perfectly shaped marquise tips the scale at 1.26 carats.  This nearly colorless gem is accented by an additional forty-six round brilliant diamonds that have a combined weight of .58 carats.  That's 1.84 carats of bling!  
It breaks all of my rules… 
No fitted band
A Tolkowsky Cut center diamond is preferred
Low profile
No matching set
And yet, I am crazy about it! 
Typically, I vote against fitted bands.  I don't mind small gaps between rings, actually, I like the separation.  However, the wedding band in this duo is notched to fit snugly with the engagement ring and it's ideal, keeping them locked together.
While a Tolkowsky-Cut stone will always be my first choice, this shapely diamond is exquisitely beautiful.  In fact, it's just as nice as a right-hand ring…  wink wink!
When a center stone sits high on a ring, I usually worry about it getting a lot of wear and tear.  However, this set is made entirely of platinum.  The diamond is well protected in this unique double loop setting with a pair of V-shaped prongs on each tip.  It's strong and secure.
I like things that go together, but are not usually what I call "matchy-matchy".  In this particular case, I must admit that I prefer the matched style…  and those heavily engraved edges!  LOVE!  It adds a vintage flair to an otherwise modern style.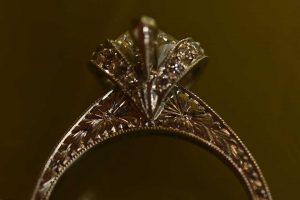 Here's my point…  when looking for a new piece of jewelry, be open-minded!  Look at all of the options.  You never know when something will catch you by surprise like this ring did for me!
"You can go to a museum and look, or come to Joden and touch."
Written by Carrie Martin
Photos by Dana Jerpe