Joden Girl
Baubles and Bling that Make the Holidays Sing!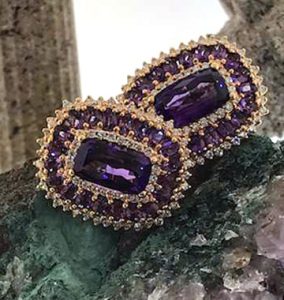 Holiday parties: the office get-together, the family reunion, the annual "Friendsgiving" – they're just around the corner.  If you're anything like me, you'll spend hours in front of your closet debating what to wear.  The stack of dresses, blouses, skirts and slacks will grow taller with each passing moment.  Once I've finally settled on the perfect ensemble – then it's time for the fun, the bling!  Unfortunately, my earring selection is limited to a pile of silver hoops in varying sizes and a pair of diamond stud earrings.  And while these are ideal for every day, sometimes a girl needs a little more!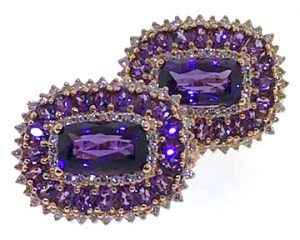 A little more indeed…  imagine clasping these beauties onto your earlobes.  A perfectly matched pair of rich violet cushion cut amethysts are embellished by a triple halo design…  all set in 18 karat rose gold.  A dazzling array of 132 brilliant diamonds and 40 oval amethysts come together in a truly spectacular creation.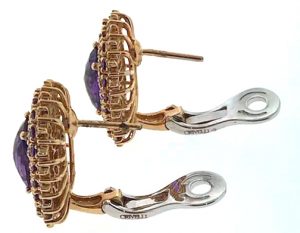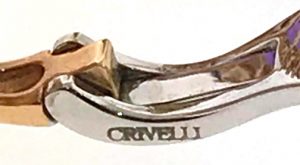 These earrings feature fold-over Omega backs, a classic detail of the finest jewelry.  The signature reveals that "Crivelli" is the genius behind the beauty.  For nearly fifty years, the name Bruno Crivelli has been synonymous with quality Italian craftsmanship.  They are known for styles with incredible texture as well as dynamic color combinations.  This pair of earrings showcases all of those elements and more.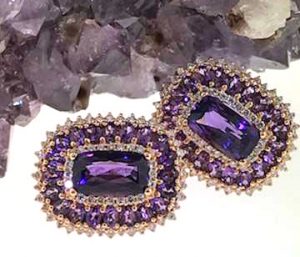 Moderately priced at just $2700 – these earrings will quickly become your favorites.  It's easy to see why they have clinched the week three spot on my list of gift-worthy holiday bling.  Over the next few weeks, when you find yourself staring hopelessly into your closet – make accessorizing a snap with these earrings from Joden.  
"You can go to a museum and look, or come to Joden and touch."
Writing and photos by Carrie Martin