Joden Girl
Baubles, Bling and Serendipitous Things
I have been eyeing this ring for months.  Months!  From the first time we met – we've been playing a game.  It's a little bit of hide-and-seek mixed with a smidgen of hard-to-get.  Our initial encounter was by happenstance – I was prospecting for interesting blog pieces.  One of the BEST places to uncover cool pieces is in Joe's Office.  I was rifling through a cardboard box cleverly labeled "Joe's Special Box – Rings". 
It was a real-life case of love-at-first-sight.  We were just beginning to get acquainted when our date came to an abrupt end.  I was called away from my expedition.  By the time I returned to my search (days later) – the treasure was gone.  The ring was no longer in the box.  After a week or two – it escaped my mind entirely.
Until our second rendezvous.  I was on yet another quest.  This time I wasn't looking for blog pieces.  I was on the hunt for unique finds for my favorite dealer.  While pouring through bag after bag of bracelets, earrings, and pendants… I caught a glimpse of something even better.  I had found the ring – again!  I slipped it out of its plastic bag and onto my finger.  From side to side – it's curvaceous platinum perfection.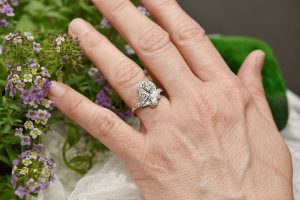 Careful inspection reveals each visual detail of the ring – it has great texture and appears to be crafted in layers.  The left side curves up with a swoop of single-cut diamonds, next is a curl of baguettes followed by yet another swirl of round diamonds and finally a second tiny arch of baguettes.  Each portion helps to create a haven for the center stone – a .40 carat European cut diamond.  In total, there are six tapered baguette diamonds with a weight of .35 carat and sixteen round diamonds with a weight of .40 carat.  The more I look, the more I'm reminded of a bracelet that my dealer friend purchased last year.  The style is distinctly similar…  I knew I needed to send it to her.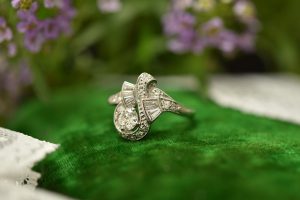 Just like that – the ring was off again, carefully tucked among fifty-five other sparklers.  I spoke with my friend once she received the ring.  She loved and admired it as much as I did.  However, it wasn't in the cards for her at that time.  And so, about a month later, she returned it…  but I wasn't there to open the package.  When the pieces were put away, the ring disappeared again.  It seemed as though this blog was never going to happen.  
Until three weeks ago, while looking for an anniversary gift for a customer, there it was.  The ring was in my hand.  Again.  This time I wasn't letting it go.  I added it to the blog schedule and gave it to Dana to photograph.  As you can see, she worked her magic – these pictures are perfection!  Every glorious Art Deco detail is highlighted – from the monochromatic style and wide variety of diamond cuts to the milgrain beaded edges.  Although the sweeping fluid lines are evocative of the whiplash line and the Art Nouveau era, there is no question that this beauty hails from the later years of the Art Deco period.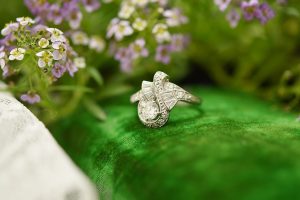 The asymmetrical lines of this unusual ring offer a big punch in a small package.  Made in the late 1930's, this ring turned a game of hide-and-seek into a case of serendipity.  By a stroke of luck, or perhaps divine intervention, this ring is available now for just $2,650.00 – make it yours today.
"You can go to a museum and look, or come to us and touch."
Written by Carrie Martin
Photos by Dana Jerpe