Joden Girl
Baubles, Bling and the Latest Things
You cannot plan for the unexpected.
535.  If we're talking about dollars left in your bank account, that's a relatively small number.  If we're talking about how many dollars a piece of jewelry costs, it's still a relatively low number…  but in both cases, the extenuating circumstances are everything.  Perhaps you only have $535 left in your account…  but tomorrow is payday.  Or it may be that you have a winning lottery ticket in your pocket.  It could be that you've fallen in love with a ring on our site that is priced at $535…  you may have to think about the purchase.  But maybe your anniversary is next week and your significant other has been hounding you for a gift suggestion…  or maybe you'll decide to put it on layaway or even take advantage of our interest free financing.  
535.  Actually, it's the number of blogs I have published.  I can't say it's the number that I have written, because I have deleted so many of them in an attempt to find something new and engaging to talk about.  That's a lot of jewelry…  incredible, inspiring and oh-so desirable jewelry.  As you can imagine, it can be challenging to find something fresh – something eye-catching.
Sometimes that piece is totally unexpected…  like this one.  At a time when yellow gold is experiencing an overwhelmingly large resurgence  – this platinum ring managed to stop me in my tracks.  I'm rarely attracted to the color green but the deep olive tone of this marquise-cut jade is refreshingly lovely.  The ballerina style hasn't been popular since the Mid Century Modern era – but there's something striking about the spray of baguette and round diamonds that surround the center jade.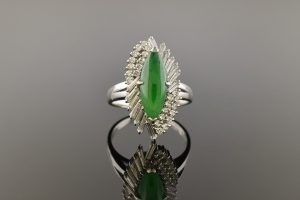 Getting back to numbers, the jade weighs 2.05 carats.  The fourteen baguette diamonds have a combined weight of .54 carat while the twenty-four round diamonds offer an additional .29 carat of sparkle.  Accompanied by a report from the International Gemological Institute of America, this ring has a retail replacement value of $5,740.00.  We are featuring it on our website for just $2,750.00 – that's more than a 50% savings!  Today, everyone is talking about numbers…  whether it be the price of gas or the cost of a loaf of bread.  In a time when everything is getting more expensive, we're saving you money.  The 535th blog piece is quite a showstopper AND it's available at a significantly reduced price.  Check it out online or in the store today.
"You can go to a museum and look, or come to us and touch."
Written by Carrie Martin
Photos by Dana Jerpe