Joden Girl
Baubles, Bling and the Latest Things
Lately I am obsessed with green.  Don't get me wrong – I'm still true blue – but green is creeping up on me!  I've been drawn to emeralds (my birthstone) – a rarity for me.  It's the deep hues, those dark tones that catch my eye.  And of course, in terms of emeralds, those are the finest and most expensive ones… definitely not in my budget.  Due to a series of unfortunate events, I had to choose a last-minute replacement for today's blog.  While I was digging around, I uncovered a doozy!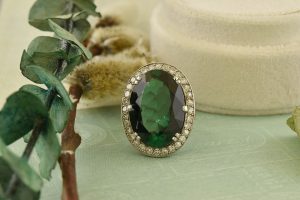 Platinum from top to bottom, this early 1940's beauty stopped me in my tracks.  Thirty-four single-cut diamonds create a perfect oval halo.  With a combined weight of approximately 1.00 carat, they are the ideal complement to the center stone.  Measuring about an inch from top to bottom, this gem is bold and beautiful.  The deep green color can only be described as emerald green…  but this is no emerald.  It's tourmaline – the prettiest one I have ever seen.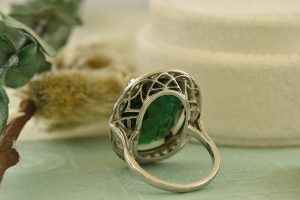 It's more than pretty.  It's mesmerizing.  Nearly reaching from knuckle to knuckle, this ring is SO good.  Everything about it is right… even the price.  An emerald in this size and color would be astronomically expensive.  However, this platinum, diamond and tourmaline gem is priced at just $2,150.00.  It's a lot of look for the money…  we're talking serious bang for your buck.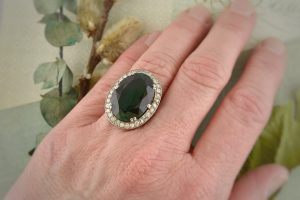 Here's how it looks on my hand…  come on in and see how it looks on yours!
"You can go to a museum and look, or come to us and touch."
Written by Carrie Martin
Photos by Dana Jerpe