Joden Girl
Baubles, Bling, and The Latest Things
This new addition stopped me in my tracks – and after more than twenty years in the jewelry business, that's quite a feat.  I couldn't wait to share it with you.  Made in the 1940's, this Retro ring is a true statement piece.  
The physical size alone is impressive.  The ring measures over an inch from top to bottom and is nearly as wide.  It's striking from every angle.  The structure of the ring, crafted from 14 karat yellow gold, offers geometric patterns in the gallery wires.  The openings are a series of repeating triangles with contoured sides.  This detail is not visible from the top, only from the side and rear view.  I'm a sucker for the fine points that elevate a ring from good to great.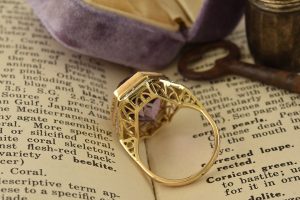 Set atop this superb structure is the real star of the show.  An elongated hexagon-cut amethyst offers a soft lavender hue and subtle sparkle.  Often larger stones are oval shaped or emerald cut.  This unusual silhouette  bring visual appeal to this vintage find. Bezel set and stretching from knuckle to knuckle, the pale purple gem weighs approximately 20 carats.  The lighter tone of the amethyst is another noteworthy characteristic.  Darker more saturated gems are generally favored, but the pastel tone of this amethyst is an impeccable choice for this jewel.  It's accented by fourteen diamonds nestled into white gold trim at the north, south, east and west sides of the center.  
Newly acquired, this ring is priced at $1,675.00.  Ideal on an index or middle finger, this ring is available on our site now.  
"You can go to a museum and look or come to us and touch."
Written by Carrie Martin
Photos by Dana Jerpe