Joden Girl
Baubles, Bling, and A Collector's Things
While every girl in America is going crazy for pumpkin spice everything – I am relishing the very last day of September.  It's the final day for a sapphire birthstone…  but isn't EVERY day a good day for this luscious blue gem?  I say yes!  These two beauties that I pulled from Joe's Special Box are my current favorites.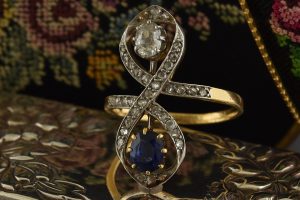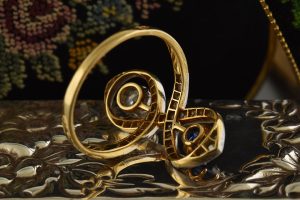 I am dying over the continuous line that creates this two stone infinity ring!  Classic Edwardian elegance brings a platinum top to this 18 karat yellow gold ring, perfectly showcasing one Old Mine Cut diamond and one rich blue sapphire.  Thirty-five rose cut diamonds encircle the two stones in perfect symmetry.  It's endless beauty for just $2,450.00.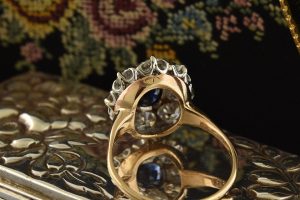 This Lady Diana style ring is the gem of my dreams.  Two full carats of glittering Old Mine Cut diamonds surround a vibrant midnight blue sapphire.  The traditional vibe of this gem is giving me all the feels.  Wear it on your left hand as an avant-garde engagement ring or rock it on the right hand for every day bling.  Priced right at $4,750.00, the choice is yours.
Come to Joden where the choices are only limited by your imagination.
Written by Carrie Martin
Photos by Dana Jerpe