Joden Girl
Baubles, Bling, and a Dazzling Disordered Ring
"Oh, it's the biggest mix-up that you have ever seen.  My father he was orange and my mother she was green."  These are the opening lines of an old Irish folk song aptly titled "The Orange and The Green."  This humorous ballad recounts the story of a man caught between a rock and hard place…  his father was a protestant (orange) and his mother was Catholic (green)!  Quite the conundrum…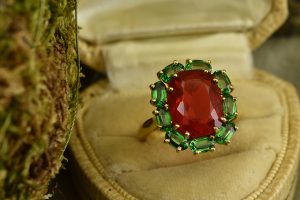 This bold ring is a different version of the orange and the green.  The rich yellow tone of 18 karat gold is the perfect complement to the strong color combination of this unusual piece.  A vivid 7.00 carat oval opal creates an eye-catching center.  This is not your typical opal…  but rather a Mexican Fire Opal, exhibiting a bright tangerine color that really pops!  Surrounding the center are a series of nine well-matched glowing green stones.  These beauties are not emeralds or peridot,  they are actually tsavorite, a rare form of garnet.  And while these are not the colors that come to mind when talking about opal and garnet – it is certainly a stimulating variation!  This ring is not for the faint of heart, no wallflowers here!  This is a statement piece for the audacious, the trendsetters!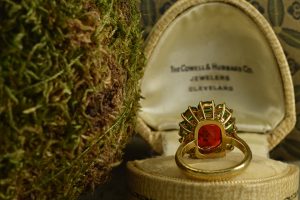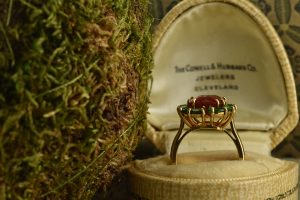 The question that I propose to you is not "Orange or Green?" but rather "Beautiful Swan or Ugly Duckling?".  Here at Joden, our cases are filled with both classic and uncommon, traditional with a bit of kooky.  Which side are you on?  Is this ring hot or not?  Priced at $5,750.00 – this is no dime store decision.  It's an extravagant inquiry.  
Log on to our Instagram feed and cast your vote!  
"You can go to a museum and look, or come to us and touch."
Written by Carrie Martin
Photos by Dana Jerpe