Joden Girl
Baubles, Bling and Three Gold Rings
For those of you who have never visited our showroom, we're located in the heart of Grove City, Pa.  Our sleepy little town is home to just under 8000 people.  The closest major city is Pittsburgh, it's an hour south.  When it comes to the hottest trends and the latest styles, we're about two years behind.  So, when even our local customers are avidly seeking and buying yellow gold, we know it's more than just a passing fancy.  
From the customers in the store to the shoppers online – everyone is crazy for yellow gold.  In the past few months, it's been all about vintage Victorian rings.  Most are made from yellow gold with craftsmanship that is unrivaled.  In the mid to late 1800's, each piece was made by hand.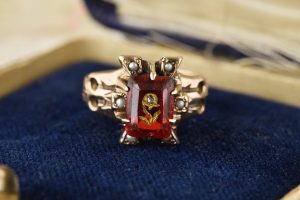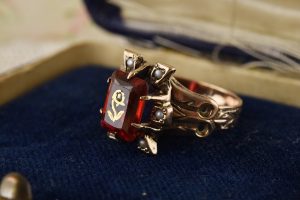 This early Victorian find is made from 8 karat gold.  Prior to the gold rush of 1848, there was actually a gold shortage.  Due to this deficit, low karat gold became a popular choice.  At approximately 33.35%, the gold content was often equal to or even a bit less than the copper content…  this unique mixture gave the metal a rosy glow.  Yellow gold foil accents the flower etched into this bold red center stone – with six seed pearls set into the rectangular frame, we are loving this little ring priced at just $240.00.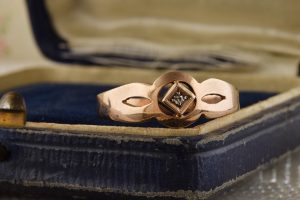 Another 8 karat gold treasure, this bandlike ring offers low-profile style that makes it so easy to wear.  A pair of east/west oriented marquise-shaped cut-outs flank the center section.  One tiny rose cut diamond is nestled within a square-shaped setting.  There are an additional four cut-outs surrounding the petite diamond, a unique design element for this period.  Perfect as an index or middle finger ring, this ring is available now for only $250.00.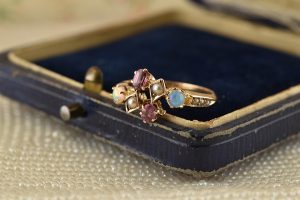 Rounding out the trio is the sweetest little bypass ring I've seen in quite some time.  Colorfully set with a lovely combination of gemstones and pearls, this ring is my pick of the three.  Each side of the ring features one oval pink topaz, one pearl and one fiery opal.  Tiny seed pearls are prong set in the shoulders of the ring, finishing the look.  The mauve hue of the topaz stones is an ideal complement to the kaleidoscope of color blazing within the opals…  pops of blue, green, and pink spark from these natural beauties.  With a chip in one topaz, this perfectly imperfect ring is available now, priced at $440.00.
If you've got caught gold fever, Joden Jewelers has the cure.  With countless choices from early Victorian to the styles of today – we truly have something for everyone.  Shop our showroom, our website, or check us out on Instagram and Facebook.  
"You can go to a museum and look, or come to us and touch."
Written by Carrie Martin
Photos by Dana Jerpe