Joden Girl
Baubles and Bling with Unbelievable Pricing
A few words come to mind when I think about this week's piece…  enchanting, ingenious and my favorite – charming.  Nothing can more accurately describe our twelfth Pick of the Week.  This bracelet has been on our list from the very beginning – we LOVE conversion jewelry.  This unique bracelet was handcrafted in our shop from nine stick pins.  It's an unusual take on a charm bracelet.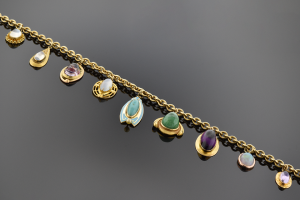 A nine inch long segment of rolo link chain features a swivel clasp (up-cycled from an antique watch chain) and a graduated series of beautifully colored gem-set charms.  After sifting through hundreds of Victorian stick pins, Joe hand selected these beauties.  Each one centers on a silky smooth cabochon stone…  there are three moonstones, three amethysts, one jade, one opal and one turquoise.  The colors blend from one into the next in a glorious array of lavender, blue, green and white.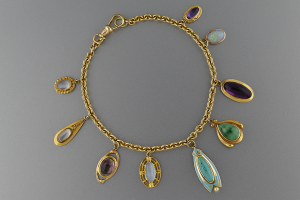 The individual character of each stick pin has been maintained and only adds to the overall appeal of the bracelet.  A bit of blue enamel, an engraved bezel, high polish or matte-finished gold…  I am completely captivated by each and every one.  
We kept the bracelet long – nine inches to be exact.  This allows us to custom fit this bit of arm candy to any wrist.  Since this IS the Pick of the Week…  that means there's about to be a price drop!  Originally listed on our site for $3,000 – we are now offering it at an absolute steal of a deal.  Buy it today for just $2100!  With the current gold market on the rise, an argument could be raised that this is actually an investment piece!  Make it yours today.
Written by Carrie Martin
Photos by Dana Jerpe and Shelly Isacco