Joden Girl
Baubles, Bling and Botanical Things
Lately, life has slowed down.  The days roll out before me like an old country lane.  If I didn't know better I would think I had stepped into a time warp and jumped back thirty-five or forty years.  The hot summer days are spent working in the yard, planting bountiful gardens, riding bicycles and swimming at the local fishing hole.  There are family dinners and family game nights.  We have time to stop and smell the roses.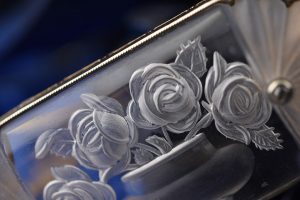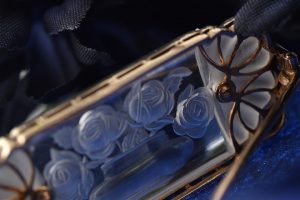 These roses may not exude a perfumed scent, but they are no less intoxicating.  Made around 1910, the central part of this brooch is crafted from a singular piece of Rock Crystal.  Carved into the reverse side is an elegant arrangement of four roses; their petals and leaves cascade over the edge of a petite, squatty vase.  Each of the two ends has been etched and frosted from the front side forming a scalloped three-dimensional motif.  This unique process gives an air of realism to this delicate blossom.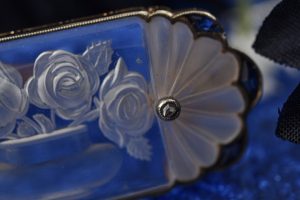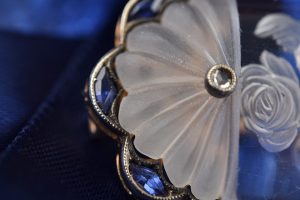 Further accenting the artistry are a series of six calibré-cut natural sapphires.  Small in size, but definitely not insignificant.  This cerulean hint of color adds yet another layer of interest to this late Edwardian piece.  Finally, two bezel set rose cut diamonds mark the center of each endcap, bringing a faint sparkle to this subtle beauty.  Priced at $3,150 – these roses will last forever.  
"You can go to a museum and look, or come to Joden and touch."
Written by Carrie Martin
Photos by Dana Jerpe