Joden Girl
Baubles, Bling and Father's Day Things
Ties are still at the top of the list for most popular gifts to give on Father's Day.  Whether they're paisley or pinstriped, traditional or funky – ties are a great gift.  But if you've already given one or two, perhaps you're in the market for something a bit more unique.  
We're hooked on this Essex crystal tie tack!  What's an Essex crystal, you ask?  Reaching the peak of popularity in the mid to late 1800's, these exceptional paintings often featured animals or nature scenes like this one.  A more accurate name for this form of artwork is reverse intaglio.  First, a piece of fine rock crystal was polished into a beautiful cabochon shape…  then the true craftsmanship began.  A watercolor rendering of the subject matter was painted on the back side of the crystal, creating a road-map or pattern.  Next, scribing tools were utilized to carve the scene deep into the heart of the stone from the back side.  Lastly, extremely fine brushes were used to paint the highly detailed motif onto the pre-etched design.  When viewed from the front, the unusual paintings appear to be three dimensional and very lifelike.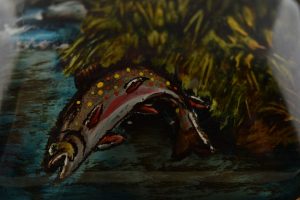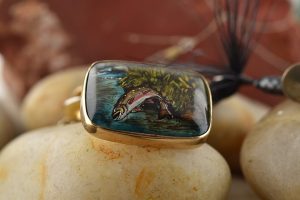 A 14 karat yellow gold frame completely encapsulates the back of this beauty featuring a multi-color brook trout  leaping in a grassy pond.  A kaleidoscope of colors bring an authentic feel to this outdoor landscape – the rich blue tones of the water pair perfectly with the earthy brown, green and yellow hues of the vegetation.  Any outdoorsman would be proud to sport this masculine gem on his favorite tie or lapel.  Handmade in the 1940's, this tie tack is available now for $1,175.00…  just in time for Father's Day.
"You can go to a museum and look, or come to Joden and touch."
Written by Carrie Martin
Photos by Dana Jerpe