Joden Girl
Baubles, Bling, and A Collector's Things
There is no question that some of the most sought after pieces at Joden are rock crystal creations.  Whether they be bracelets, pendants, or even earrings – our customers go crazy for this classic Art Deco style.  This pendant is sure to prove my point.  A cushion-shaped piece of frosted calcite rock crystal had been carved with a starburst pattern and artfully set in the center with a vertical line of five round diamonds.  This beauty is further enhanced with a alternating framework of glossy black enamel and diamond set sections.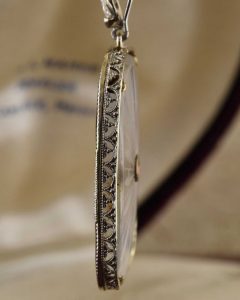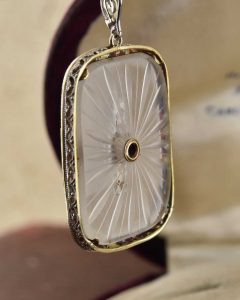 The outer edge has been hand carved with an intricate scalloped pattern.  It is suspended from a simple bail constructed from a single marquise shaped diamond.   It is effortless elegance at its finest.  The moment this piece arrived at  Joden, Joe scooped is up and whisked it away to his Special Box.  Moderately priced at $1,750.00 – this is one gem that won't last long.  
For this piece and so many fabulous others, like us on Facebook and follow us on Instagram.
Written by Carrie Martin
Photos by Dana Jerpe