Joden Girl
Baubles, Bling, and a 1950's Ring
Turn back the clock…  let's go back to the '50's.  Elvis was on the radio, gas was .18 cents a gallon, and no one had ever heard of cell phones.  A new house cost about $8500 and a new car was just $1500.  Families were moving out of the city and into the suburbs.  There was a 12″ black & white TV in every living room, a Diners Club card in every wallet, and milk was delivered to your doorstep.  It sounds… dreamy.  
Call me old-fashioned or maybe even crazy, but it seems like a little piece of heaven.  Homemaking was a career in and of itself.  Children were delivered to school – on foot as most families only had one car if at all.  Then it was on to food shopping (done daily as everything was fresh) – women visited the butcher, the grocer, and the green grocer.  Then laundry, cleaning, sewing and knitting – just to name a few!  These women took great pride in their home and families.  Many times I have lamented the fact that I was born in the wrong decade.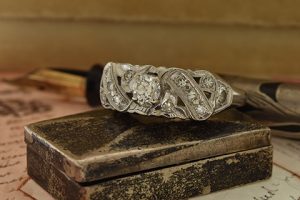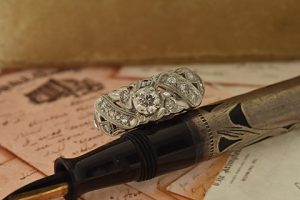 I can see myself in a classic floral print shirtwaist dress (with an apron over top), sensible flats, and this ring on my left hand.  The wider width and larger diamond center have the appeal of a two piece bridal set wrapped up in the simplicity of a single ring.  The style of this piece gives a nod to Art Deco style with a decidedly modern twist.  The center boasts a bright .33 carat round brilliant diamond.  An alternating pattern of leaves and diagonal strips create a lacy pierced design.  Twelve more round diamonds are sprinkled throughout this Mid-Century Modern gem – adding an additional .30 carats to this beauty.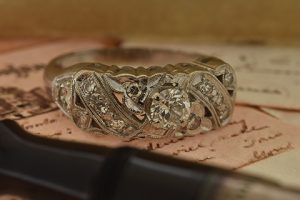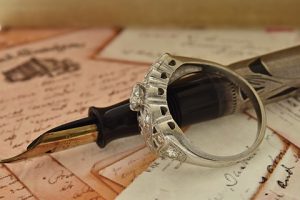 I am a smitten kitten, no doubt.  There are so many possibilities… wear it as an engagement ring or a wedding band.  It makes an ideal anniversary band or even a right-hand ring.  Add it to your favorite stack or wear it alone for effortless appeal.  
Here's the BEST part…  it won't break the bank!  Originally priced at $1,650 – this ring has been price reduced for a quick sale.  It's available now for just $980!  Yep – you read that right…  .63 carats of vintage bling for less than a thousand dollars.  Make it yours today.  **Update** This ring has sold.  
"You can go to a museum and look or come to Joden and touch."
Written by Carrie Martin
Photos by Dana Jerpe