Joden Girl
Baubles and Bling with Unbelievable Pricing
Natural diamonds form in a broad range of color.  In addition to the colorless variety that is most commonly associated with the sparkly gem, there are hues of red, orange, yellow, green, blue, purple, pink, brown, violet, gray and black.  Only 1 in 10,000 carats will display a fancy color while the odds of an intense color is just 1 in 25,000 carats.  
Brown and yellow tones are the most common while the rarest shades are red, orange, purple and green.  To break it down further, the Gemological Institute of America has divided each color into nine levels of intensity: Faint, Very Light, Light, Fancy Light, Fancy, Fancy Dark, Fancy Intense, Fancy Deep and Fancy Vivid.  To further compound the issue, each color can also be modified by other colors.  It's a bit dizzying.  
We aren't attempting to become geologists or even chemists…  all of this information is simply to show just how rare natural fancy-colored diamonds are. 
Get an eyeful of this beauty – isn't she dreamy?  Made entirely of platinum, this unicorn showcases a 2.01 carat Natural Fancy Green Yellow diamond in the center.  Graded by the Gemological Institute of America, this radiant (Cut-Cornered Rectangular Modified Brilliant) cut diamond is an SI2 in clarity.  Surrounding it are eight heart shaped diamonds.  These romantic gems are natural Fancy Purplish Pink and have a combined weight of .60 carat.  Together, these two colors are reminiscent of the first blush of Spring flowers and cotton candy skies.  It's awe-inspiring.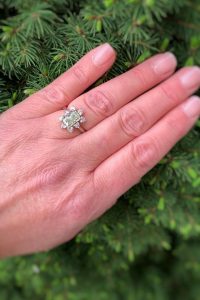 Shown on the hand, the ring is perfect for daily wear.  It's low-profile and ideally sized.  Evaluated by the International Gemological Institute of America, the ring has a retail replacement value of $31,000.00.  We have had it on our site for $28,500.00.  Now, for a limited time, we are offering this natural fancy colored diamond ring for just $25,000.  I encourage you to visit our showroom to admire it in person.  It's a truly exceptional example.  
"You can go to a museum and look or come to us and touch."
Written by Carrie Martin
Photos by Dana Jerpe