Joden Girl
Baubles, Bling and Heavenly Things
"I am the light of the world, whomever follows me will not walk in darkness, but will have the light of life."
John 8:12
For more than 2000 years, the stars have been a symbol of hope.  Scripture tells us that three wisemen followed the Star of Bethlehem to Jerusalem to find the baby Jesus, the Messiah.  The birth of Christ is the ultimate promise of hope and salvation…  guided by a star.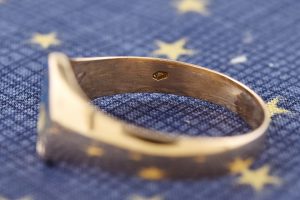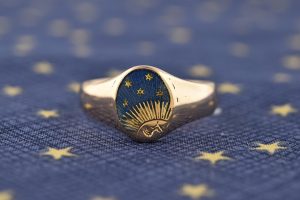 This classically styled ring resembles a signet with a low-profile oval center atop a smooth shank.  Made from 10 karat yellow gold, the ring features a heavenly array of five six-pointed stars and a setting sun.  Each six-pointed star is set within a bright blue sky.  This azure horizon is actually created from guilloche enameling, the gold was etched with diagonal lines and then coated with translucent blue enamel, giving the scene depth and dimension.
The sun appears to be rising from the base of the ring.  The sun is a life-giving and life-sustaining celestial body that is often thought to symbolize the Son of God.  It is also believed to represent growth, health and the cycle of life.  
Carefully engraved inside the ring are the initials "B. T." and the date "1912".  This was the very end of the Art Nouveau era and the beginning of Art Deco.  Now, over 100 years later, the symbolism of this unique ring is just as relevant as it was then…  hope for the future, good health and a new beginning.  Priced at just $475, this talisman is available now.  Call us for additional details.
"You can go to a museum and look or come to us and touch."
Written by Carrie Martin
Photos by Dana Jerpe