Joden Girl
Baubles, Bling, and the Art of Filigree Things
Whether it's made from woven wire or silken thread – the intricate patterns created are undeniably similar.  Both lace and filigree are made in much the same manner…  curled, twisted, and plaited threads crossed over, under, and finally united at all points of contact.  Time has not diminished the value of either, but rather made them all the more desirable. 
Here is a close-up segment of a filigree bracelet juxtaposed with a piece of lace called Carrickmacross.  Both showcase open meshwork, a treasured decorative element.  No one can resist the delicate beauty of filigree jewelry. Even novices are drawn to Edwardian and Art Deco pieces resplendent with the airy patterns painstakingly created wire by wire.  Ladies, both young and old, are equally enchanted – including me!  Check out this trio of bracelets – each one lovely, but also each with a personality all its own.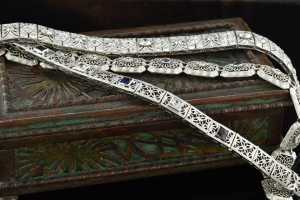 Here they are individually…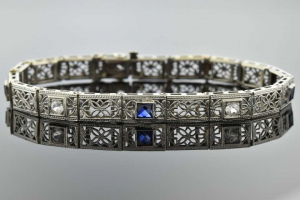 This piece is from the Depression Era, circa 1930's, featuring die-struck metal that was then hand finished.  The center stone is a square synthetic sapphire (authentic and original to the bracelet).  It is flanked by a pair of white stones and then two additional synthetic sapphires.  It's moderately priced at $1100.00.
This stunner, signed J.E. Caldwell, speaks for itself.  Handcrafted in platinum using an alternating sequence of two link styles, it contains 120 diamonds totaling over 10 carats!   Aficiondos and amateurs agree – this piece is simply magnificent.  Call me for more details and pricing.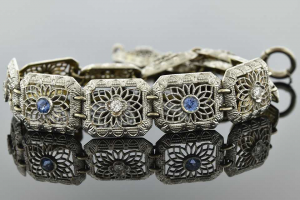 Finally, we have my favorite of the bunch!  I love the style of the filigree, it reminds me of the petals of a chrysanthemum flower – blooming out from the tiny gem-set center.  Crafted with a nod toward the Edwardian era – this bracelet has a yellow gold frame that is overlaid with a white gold top. 
Special attention has been paid to this bracelet – even the back is polished!  For more details and photos, visit our site!
Unlike the lace on a christening dress or a wedding gown, each of these bracelets can be worn and enjoyed every day.  Their lacey appearance is not reserved for special occasions but rather meant to delight… day after day, year after year.
Written by Carrie Martin
Photos by Shelly Isacco