Joden Girl
Baubles, Bling and the Latest Things
The chief complaint about reproduction jewelry is always the quality.  Often made from inferior metals with poor manufacturing – replica pieces can be low grade and substandard.  Additional criticisms include mediocre style and design.  
To be honest, when I hear the words "Art Deco Inspired," I cringe a little inside…  primarily for the reasons mentioned above.  In a business like ours, who would choose a reproduction when there are authentic originals available?  Today, the answer to that question is me.  I would choose a reproduction – but only if it's this one.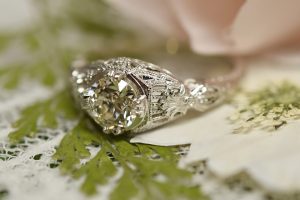 To the average person, this ring appears to be an authentic original.  However, under the careful trained eye of a seasoned expert (Jay, of course), a discovery was made… this ring is cast.  This process involves making a wax model from which a mold is made.  Molten hot gold is then poured into the mold, cooled and finally broken open.  The ring revealed inside is then final finished with sanding and polishing.  Authentic Art Deco jewelry is handmade, not cast.  
Although this little gem is not handmade, it's also not low rent.  Made from 18-karat white gold (definitely NOT an inferior metal), this Art Deco-inspired beauty has great detail.  There are four tiny flowers woven into the fine filigree wire work.  Additional charm accents each shoulder in the form of sculpted pieces and engraved patterns.  
Sitting center stage is one Old European Cut diamond.  This beauty weighs approximately .65 carat – it shimmers from every angle.  
This dainty darling sits perfectly on the hand.  And although it's not an antique original, it is a fine quality modern diamond engagement ring. Priced at $2,000.00, it's available on our site now.  Hop on over and check it out!
"You can go to a museum and look, or come to us and touch."
Written by Carrie Martin
Photos by Dana Jerpe