Joden Girl
Baubles, Bling and Matching Things
Suites were much more popular in the Victorian era than in later years.  They're nearly non-existent in modern jewelry – those that are available are mass produced and ordinary.  I was delighted to discover this three-piece set.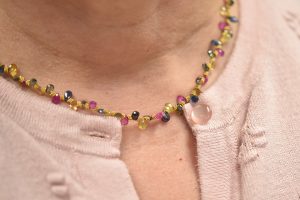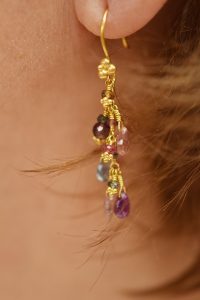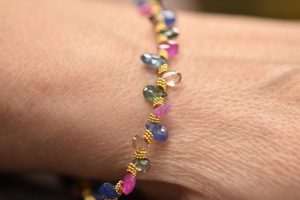 Made from 22-karat yellow gold, this trio is colorful and fun.  The necklace, bracelet and earrings contain one hundred and fifty pear-shaped briolette sapphires in a rainbow of colors.  With various shades of blue from the palest sky to a deep cerulean, baby pink and bright bubblegum, lemon yellow, and deep green hues covering every inch,  each one is more lovely than the last.  Totaling approximately fifty carats, these gems are evenly spaced with textured gold rondelles.  These tiny links both separate and allow each individual color to shine.
The use of toggle clasps is genius – the necklace and bracelet can be cleverly combined into one long strand.  Wear it in a single loop around the neck, or wrap it around your wrist for a more bohemian feel.  The earrings dangle enchantingly from a french wire, sparkling with every turn of your head.  The light and airy feel is as comfortable as it is captivating. 
Although there are three separate pieces, they can be combined in an endless array of looks to suit every style.  Priced at just $3,250 (just a smidge over $1000 per piece) for the entire suite – it's a great buy.  High karat gold combined with fifty carats of multi-color sapphires – you simply can't go wrong.  Stop by the store to check it out today.
"You can go to a museum and look, or come to us and touch."
Written by Carrie Martin
Photos by Dana Jerpe