Joden Girl
Baubles, Bling, and Diamond Earrings
For the first time in a long time, this holiday season drew on an old favorite…  diamond studs.  The last few years have been all about diamond hoops.  But not this year.  Shoppers demanded studs of all shapes, sizes, and colors.  There were round brilliants, princess cuts, and squares.  Sparkling gems set in gold of every color…  white, rose, and yellow.  There's no question – the classic styles are back on top.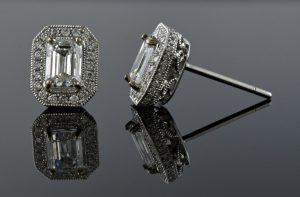 Somehow these beauties are still here…  but I doubt they last long.  Check out the attention to detail.  Let's start with the Art Deco-inspired mountings.  Milgrain beaded swirls decorate the back of the 14 karat white gold baubles and a delicate ring of diamonds surrounds the eight-side edge.  A second halo of round brilliants accent the center stones…  that's a total of 104 fully faceted diamonds weighing in at over .50 carat.  And don't forget those emerald cuts – a killer pair of perfectly matched step-cut diamonds that weigh 1.08 carats.  These dazzlers have an average color grade of F, with an average clarity grade of VS.  Simply stunning.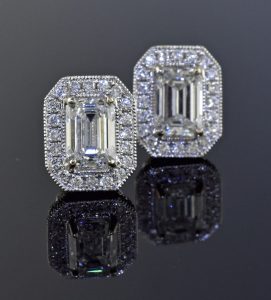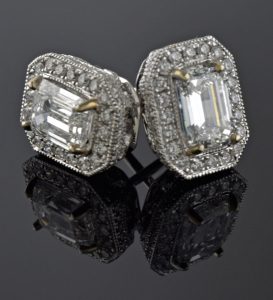 My husband bought me my diamond earrings several years ago.  I love the traditional feel of them…  round diamonds set in white gold.  They are the perfect accessory for everything from jeans to heels.  They are in my ears more often than not. 
Every girl needs a pair of diamond studs…  whether they be plain or fancy, round or square.  At Joden, we have choices aplenty – including these.  Make them yours today for just $4200.
"You can go to a museum and look, or come to us and touch."
Writing and Photos by Carrie Martin