Joden Girl
Baubles, Bling, and Edwardian Things
This charming turn-of-the-century necklace has us all tied up in knots.  From the crest of each bow loop to the tip of those bezel set diamond dangles – it is absolutely enchanting.  A soft yellow gold has been topped with a layer of platinum, aged to perfection.  A glorious patina (heavier in the nooks and crannies) coats the surface and highlights each diamond detail.  These are clues, revealing the age…  early Edwardian, made around 1900.  Here are some photos from behind, showcasing the classic two tone style.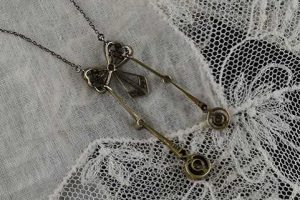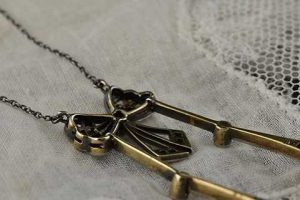 If only we could all look this good at nearly 120 years old!  The pendant itself measures less than two inches in length and hangs from a 17 inch split chain.  Each half of the delicate chain attaches to the loops of the most adorable little bow.  Made from fine filigree, it features a series of sixteen rose cut diamonds that are hand set into the scalloped edges and pointed tips of the tails.  One fully faceted diamond creates the knot in the center of the bow.  It is set within a tiny milgrain-edged bezel and completes the bow to perfection.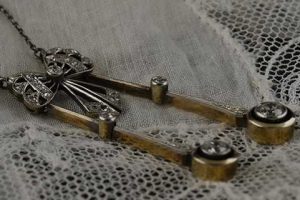 The final and perhaps most engaging element of this Edwardian pendant are the two drops…  one slightly longer than the other.  The narrowest of wires connects to the base of the bow with a nearly invisible hinge.  These drops get wider as they get longer and each one is set with three individual diamonds…  the largest of the stones finishing the dangle.  So much detail is encompassed within this relatively small piece!  A piece of jewelry like this, in pristine condition, commands a big price.  This beauty is available now for $1,480.00.
"You can go to a museum and look, or you can come to Joden and touch."
Written by Carrie Martin
Photos by Dana Jerpe