Joden Girl
Baubles, Bling and Cryptic Things
Victorian, Edwardian or somewhere in between?  While there have been years assigned to each era, it's not always possible to look at the artifacts and relics and pin a precise period upon each one.  More often than not, the lines are blurred…  and the styles blend together in the most beautiful ways.  
Once a brooch, this conversion necklace is made from a combination of 14 karat yellow gold and silver.  The warm tone of the gold forms the base of the piece although it is only visible from the back.  From the front, the look is monochromatic.  A light patina is the only detectable hint of darkness.  The unique blending of metals is characteristic of both Victorian and Edwardian.  In the 1800's, the feature was created by layering silver over gold – but by the very early 20th century, the introduction of platinum both elevated and refined the concept.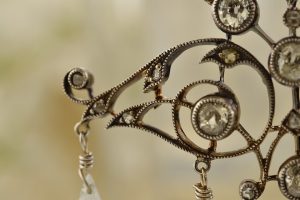 Generally speaking, silver-topped gold indicates Victorian while platinum-topped gold most often suggests Edwardian – although it isn't always black and white.  A lovely array of swirling lines intersect to create the frame.  Seven Old Mine Cut diamonds have been bezel set in the heart of the piece.  These stones have a combined weight of approximately 1.00 carat.  The lip of each collet (or bezel) features a precise row of tiny beads known as milgrain.  This detail would become a trademark of the Edwardian era.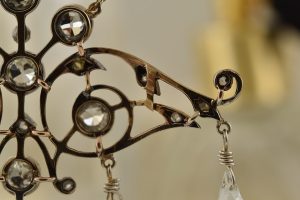 Decorating the vines are ten small leaf-like settings, each one containing a bright rose cut diamond.  Eighteen of these primitively faceted stones are sprinkled throughout the piece and offer an additional .18 carat of sparkle.  The most unusual detail of this design are the five briolette cut gems that dangle from the bottom edge.  Nearly colorless, these beauties could easily be mistaken for diamonds – however, they're not.  The faint blue stones are actually aquamarines…  the birthstone for March!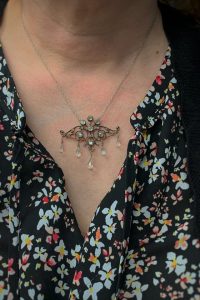 Delicately detailed from top to bottom, this pendant combines the best that the Victorian and Edwardian eras had to offer.  Priced at just $2,250.00 – this conversion necklace is new to the Joden site and simply too good to resist.  But you don't have to take my word for it, check it out for yourself.
"You can go to a museum and look or come to us and touch."
Written by Carrie Martin
Photos by Dana Jerpe