Joden Girl
Baubles, Bling, and A Collector's Things
Occasionally, I find a piece in Joe's Special Box that makes me go "Hmmm?"  This ring definitely made me stop and take a second look, and then a third.  Finally, I took it out of the little plastic bag it was floating around in to give it more than just a cursory glance. 
I slid it onto the middle finger of my left hand… I was surprised at how easily is nestled into that spot and how much I liked the look of it.  The band is wide – really wide (15 mm), reaching nearly knuckle to knuckle.  The expanse of the ring is covered in a rich olive green enamel with an 18 karat yellow gold border on each side.  Featured on the top center are a series of three round symbols, each one filled with opalescent enamel and round brilliant diamond accents.  A linear tag inside names the designer, Nouvelle Bague.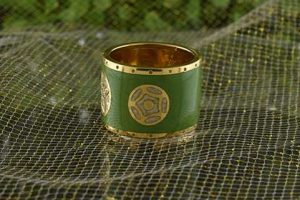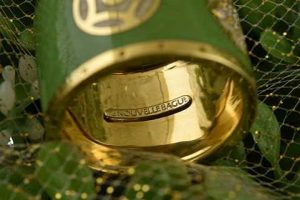 Founded in 1976 by Leopoldo Poli, their designs are deeply rooted in the traditions and craftsmanship of Florence.  Bold patterns showcasing creative color combinations are the heart and soul of the brand.  The hand enameled jewels carry an air of uniqueness that makes them instantly special to the wearer.  
A bit of research revealed that this particular band retailed for $4,250.  Although our ring has never been worn (pristine condition!), it is still considered estate.  We are offering this beauty for just $1,950 – a huge savings!  If you're craving a high end piece of signed jewelry, this one is for you.
"Wearing a piece of jewellery from Nouvelle Bague is simultaneously
communicating an idea of preciousness, strength, and light."
Written by Carrie Martin
Photos by Dana Jerpe