Joden Girl
Baubles, Bling and the Latest Things
"How much is that doggie in the window?  The one with the waggly tail.  
How much is that doggie in the window?  I do hope that doggie's for sale."
This fun novelty song was written by Bob Merill in 1952.  The following year, it was recorded by Patti Page and rocketed to the top of the Billboard Charts where it stayed for eight straight weeks.  Selling over two million copies, this little ditty was fresh and new; the catchy chorus took America by storm.  Due in part to the charming g-rated lyrics, the tune became a popular children's song in later years.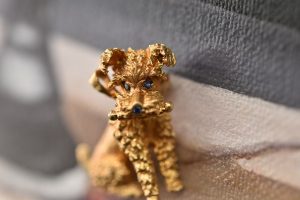 Unlike the puppy in the song, this little guy won't keep you company or save you from robbers that come in the night.  But he is certain to bring a smile to your face.  From the tip of his cocked ears to the bottom of his furry paws – he is cuteness overload.  Looking very much like a Yorkshire Terrier, this playful pup is made from 18-karat yellow gold.  I love the attention to detail…  a large-looped bow stands in place of a collar, and a tiny twig is gripped between his jaws.  Sitting pretty – he is ready for a game of fetch.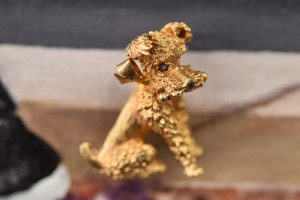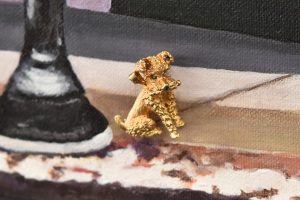 A trio of blue sapphires mark both his eyes and the tip of his tiny nose completing the look.  The back of the dainty brooch is marked with two hallmarks – one noting the maker and the other the fineness of the metal.  Perfectly petite and much like his real-life counterpart, this pup measures just shy of one inch.  Pin him to your favorite denim jacket for a spirited Spring style… or convert him to a pendant to wear all the time.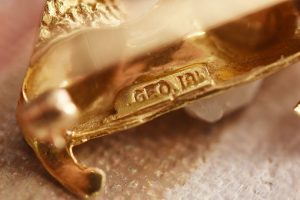 Made in the Mid-Century Modern era, this darling doggie is indeed for sale.  For just $575.00, you can adopt him for your very own.  Call us at 1-800-747-7552 to make him yours today.  
"You can go to a museum and look, or come to us and touch."
Written by Carrie Martin
Photos by Dana Jerpe