Joden Girl
Baubles, Bling and Fun Things
All the choices you make from the car that you drive to the jewelry that you wear is an opportunity to showcase your personality…  or even just your mood of the day.  And though you may not be able to change up your vehicle every day, you can mix-up your accessories.  It's easy to get in a rut and wear the same pieces day after day.  I am definitely guilty of that – somehow, I always seem to be running late.  As I'm dashing out the door, I scoop up the jewels I wore yesterday and throw them on while driving to work.  Because of that, I have a few pieces that haven't been in the rotation recently.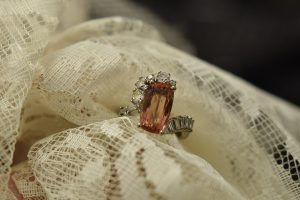 On the days that I'm up and at 'em early, I take time to choose the jewelry that feels good and suits my mood.  A ring like this is perfect for those days when you're feeling particularly funky.  It's unexpected, unique and will undoubtedly draw some attention. 
This 1970's stunner is made from 14-karat white gold.   The right side of the ring has a small rollercoaster hill – it rides up and then back down to meet the base of the center stone.  There are a series of six straight baguette diamonds set vertically; each one is held in place by two prongs.  The left shoulder of the ring ramps up the side of the center beginning with two straight baguette diamonds.  Combined, these eight step-cut diamonds have a total weight of .50 carat.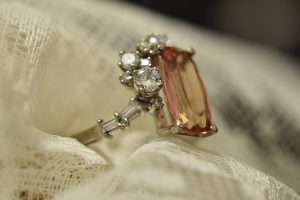 An explosion of round diamonds sits at the top left corner of the center.  In total there are eight round diamonds that have a combined weight of .75 carat.  These sixteen diamonds create a super sparkly and oh-so-fun frame for the center stone.  Exhibiting a breathtaking peachy-pink hue, this oval shaped Imperial Topaz makes a bold statement at 7.50 carats.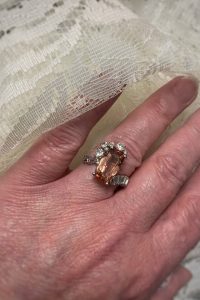 On the hand, it's perfect!  It's eye-catching and engaging.  This is the kind of ring that pairs perfectly with high spirits, shenanigans and sunshine.  Or, if you're feeling low – it's just the thing to perk you up.  If you've been searching for a statement piece to add color and personality to your jewelry wardrobe, then today is your lucky day.  This Mid-Century Modern ring is the latest and the greatest bit of bling on our site.  It's moderately priced at $4,250.00 – and it's available now.  
"You can go to a museum and look, or come to us and touch."
Written by Carrie Martin
Photos by Dana Jerpe