Joden Girl
Baubles, Bling, and Wild Things
It is impossible to write the words, "Welcome to the Jungle" without hearing Axl Rose screaming in my head. Flashback to 1993, twelve rows back from center stage, drooling over Guns & Roses performing live.  Those were the days.  Now, my wildest nights include an extra cheese pizza and staying up past ten o'clock!
Speaking of wild, check out these charming little guys…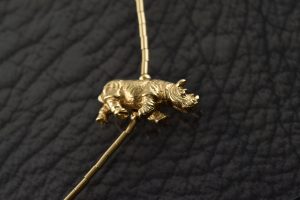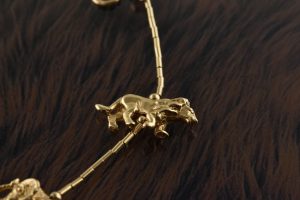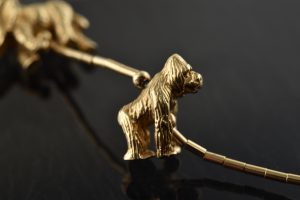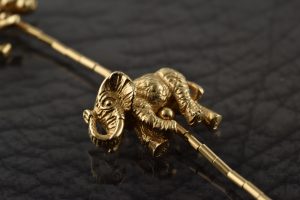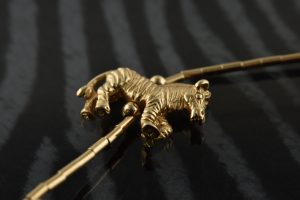 How fun is this animal themed bracelet?  Each one is sculpted from 14 karat yellow gold.  The details are amazing – textured fur and wrinkles in the skin.  The rhinoceros is complete with his double horn, and hulking shape.  The lion, king of the jungle, appears to be on the prowl with his mane blowing back from his face.  I am in love with the vigilant stance of the gorilla!  And that elephant, with his truck up (for good luck, of course) and knee cleverly bent…  he is a gentle giant to be sure.  Finally, the zebra with his beautifully striped coat and tufted mane is so lifelike.  All five are equally spaced on a seven inch bracelet using barrel like flat beads.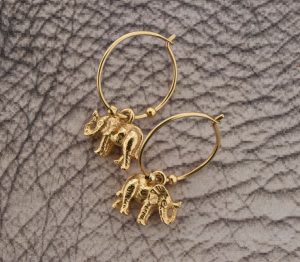 It pairs perfectly with these 14 karat yellow gold hoop earrings with elephant dangles.  The size is ideal, clearing the earlobe with a bit of movement that makes them extra playful.  Bring something wild and untamed to your daily look with this dynamic duo.  The bracelet is priced at just $790 and the earrings are available for only $300.  Give us a call or stop by our showroom to make them yours.
"You can go to a museum and look or come to us and touch."
Written by Carrie Martin
Photos by Dana Jerpe