Joden Girl
Baubles, Bling and Detailed Things
It's the little details that turn a house into a home.  From welcoming flowers on the front porch to the blanket draped lovingly across the back of the sofa – these are the things that make you want to settle in and stay for a while.  Growing up, my parents' house was always (and still is) fitted with all the elements of home – soft throw pillows, family pictures, and the scent of a  Yankee tart wafting through the kitchen.  Now, my house has its own charms – baskets of blankets perfect for cuddling, a well-loved and oh-so cozy chair in the family room, and a container of homemade sweet treats on the kitchen counter.  These seemingly insignificant particulars are, in fact, the very things that matter.  
Antique jewelry is often the same.  It's the fine points that take a piece from ordinary to extraordinary.  Edwardian and Art Deco finery is notable for stunning lace-like filigree jewelry, like this ring.  Made from a foundation of 18-karat white gold and topped with a layer of platinum, this three-stone ring is dripping with details.  A trio of European cut diamonds mark the center section of the ring.  Though each one is round, they are seated within both square and pear-shaped borders.  Milgrain beads add texture to those borders.  Cascading down the shoulders are two additional diamonds – these tiny sparklers are single-cuts.  Single-cut diamonds have just seventeen facets and were often utilized in pieces from the early to mid 1900's.  
The outside edges of the ring have four more single-cut diamonds.  All nine diamonds contained within the ring have a total weight of approximately .50 carat. Gossamer wire threads connect each segment in a fine filigree web.  The woven pattern curls and whirls around the softly-domed top.  Finishing the sides and decorating each shoulder is chevron-shaped leaf engraving.  From the milgrain-beading to the filigree lace, these elements culminate into one enchanting ring.  If a single detail were gone – the ring would not be the same.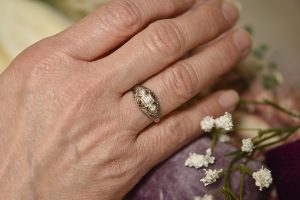 The elements create a mood, an ambiance…  a warm fuzzy feeling.  It's like the emotion evoked by curling up in my favorite chair with my Snoopy throw blanket.  This ring doesn't shout, but rather speaks in a quiet eloquent voice.  Made between the end of the Edwardian era and the beginning of Art Deco, it's a crossover piece.  Priced at just $1,150.00, this ring is the newest arrival to our website.  Check it out then stop by the store to see it out for yourself!
"You can go to a museum and look, or come to us and touch."
Written by Carrie Martin
Photos by Dana Jerpe