Joden Girl
Baubles, Bling and Quality Things
They say lightening doesn't strike the same place twice…  based on recently discovered evidence, I beg to differ.  Nearly three years ago, I shared a magnificent malachite butterfly brooch (pictured below) – I was struck by the graceful lines and bold colors.  Titled "Take Flight," that blog detailed every little thing about the pin from the tip of each contoured wing to the base of the diamond-studded body.  Perhaps the single most important feature was the unmistakable symbol emblazoned on the back.  It was an east/west oriented diamond shape with the letters HR engraved inside.  These initials stood for Herbert Rosenthal – an iconic Mid Century Modern jewelry designer famous for his charming diamond and ruby bee brooches.  These dainty darlings quickly became the must-have item of the 1960's and 1970's – Rosenthal even became the exclusive designer of bee pins for Tiffany & Co.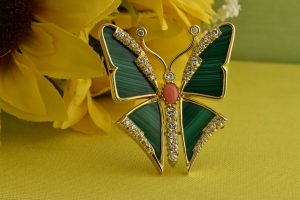 Butterflies have long been a symbol of resurrection and rebirth – a perfect choice to celebrate Spring.  The collection at Joden boasts dozens of these winged creatures – from ordinary to extraordinary, each one special in their own rite.  About once a month, I spend a day seeking out new blog-worthy pieces.  Digging through boxes, peeking in the showcases – I strive to see each jewel with fresh eyes… like I'm seeing it for the very first time.  Pieces are chosen based on rarity, current trends, value – sometimes I select a piece because it's ugly!  Anything that triggers an emotional response is a deserving candidate.  Sometimes, I can't pinpoint the exact reason I chose an item…  it just has that special something.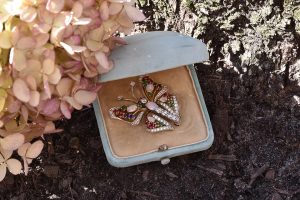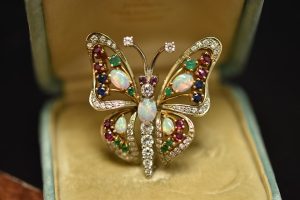 That's how it began with this butterfly…  I couldn't put my finger on why I was drawn to it.  We keep each piece of jewelry at Joden in a small plastic bag.  On the outside of the bag, we list pertinent details about it.  Viewed while still inside the plastic bag, this brooch is lovely.  It's colorful with a shapely outline.  It wasn't until I held it in my hand that I could feel the quality.  The moment I picked it up, I felt each wing move.  The brooch is articulated and moves with lifelike grace.  It's quite remarkable.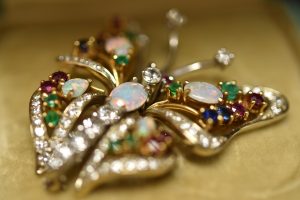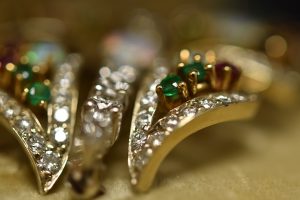 The frame of the butterfly is sculpted from both 18-karat yellow gold and 18-karat white gold.  Nearly every surface glitters with sparkling gems.  Five opals of both oval and pear shapes mark the middle of the body and the center of each wing.  Surrounding those fiery gems are eight emeralds that weigh .65 carat, ten rubies that weigh 1.00 carat and four sapphires that weigh .40 carat.  Outlining each wing and completing the body are sixty-four round brilliant diamonds that have a total weight of 1.50 carats.  Every single stone is fine in both cut and color.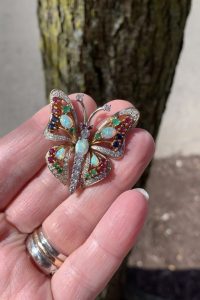 I always look for makers marks – I love finding them, deciphering and analyzing each one.  Like an exceptional painting signed by the artist, fine jewelry is also often signed by its maker.  Because this butterfly is so meticulously made, I was certain there must be some kind of hallmark.  Sure enough, underneath the pin stem of this soaring sorceress are two crisp marks; there is an 18K accompanied by an HR inside a sideways diamond – the mark of Herbert Rosenthal.  My detective work has paid off!  Lightening can, in fact, strike the in the same place twice.   For the second time in less than three years, we have a signed Herbert Rosenthal butterfly.  Although the malachite brooch sold, this stellar example is available in our showroom for just $2,050.00.  Call today to make it yours.
"You can go to a museum and look, or come to us and touch."
Written by Carrie Martin
Photos by Dana Jerpre