Joden Girl
Baubles, Bling and Curvy Things
A ring… a circular band worn on the finger, often made of metal and worn for ornamental purposes.  There is evidence of rings existing all the way back to 2500 BC.  In the years since, rings have undergone countless transformations.  In September of 2022, Brides magazine listed eighteen different types of engagement rings; just last week, The Trend Spotter cited a whopping thirty assorted styles of betrothal rings.  Somehow neither of these two sources recognized one of the most iconic designs of all time – the bypass ring.
Nearly every ring is a continuous line – however, a bypass ring is characterized by a pair of bands that twist.  Popular since the early 1800's, this unique configuration symbolizes two lives coming together while still maintaining their own individuality.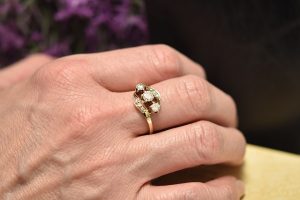 This Mid Century Modern marvel combines the significance of a bypass ring with the time-honored meaning of a three-stone ring… one stone for the past, one for the present and one for the future.  Made from 14-karat yellow gold in the 1950's, the two arms of the ring wrap around three round diamonds.  Together, these sparklers have a total weight of approximately .80 carat.  Nestled deep within each arm are six additional diamonds that offer another .18 carats of dazzling brilliance.  
Although the bypass style was originally created as an engagement ring, in more recent years, it has also become known as a fashion design.  No matter how you choose to wear it, this ring is simply stunning.  Moderately priced at just $1,425.00 – it's available now on our site.  
"You can go to a museum and look, or come to us and touch."
Written by Carrie Martin
Photos by Dana Jerpe