Joden Girl
Baubles, Bling and Quiet Things
Defined as big and bold, statement earrings were all the rage in 2021 – these attention grabbing stunners encapsulated everything from large diamond studs to Victorian chandeliers.  Perhaps you indulged in a killer pair of gold hoops or daring shoulder-sweeping fringe earrings.  These have become your go-to accessory for the days when your confidence is through the roof and also for the days when you need a pick-me-up.  They're audacious and an absolute "must-have" in your jewelry box.
But what about the in-between days?  The comfortable, feel-good, normal days…  the cozy sweater and leggings kind of days?  On an average Wednesday, reach for these quiet beauties.  
Made from two shades of 14-karat gold, these earrings are everything you never knew you needed.  With articulated moving parts, they swing enchantingly in the ear.  The details are soft and subtle…  with voluptuous curves and small engraved patterns, they're lightweight and comfortable in the ear.  The overall feel is botanical combining the rosy gold that Victorian jewelry is known for with the brighter, more yellow-y hue of high-karat gold.  
The lower portion of the earring is original and authentic from the late 1800's, although the shepherd's hook tops are a more modern addition.  A tiny c-shaped catch keeps the wire closed, a nice safety feature.  Four dainty navette-shapes dangle from the bottom of each one, adding even more movement and charm.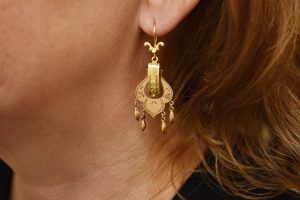 These are earrings that you will find yourself wearing more and more often.  They speak softly, adding a touch of loveliness to an otherwise ordinary day.  While they may not be considered statement earrings by most, they could easily become YOUR statement earrings…  a testament to quiet joy and the happiness of a mundane day.  They're available on our site for just $950.00 – make them yours today.
"You can go to a museum and look, or come to us and touch."
Written by Carrie Martin
Photos by Dana Jerpe