Joden Girl
Baubles, Bling and the Latest Things
This latest piece is fresh from our shop.  Located on the premises, Joden Jewelers is doubly blessed to have this state-of-the-art facility staffed with two world class bench jewelers.  Having this valuable resource at our fingertips allows us to do so much more than an average store.  We are able to restore, repair and create…  sometimes on a whim.  This necklace is one of those whims. 
Curvaceously charming, this pendant was made from a bar pin.  Originally designed to be worn horizontally, this lovely pin had been hanging around the store for awhile.  Clovers are a treasured symbol of faith, hope and love.  Enchanted by the heart-shaped pavé pearl leaves and curled stem, we had a moment of inspiration and decided to convert it to a pendant.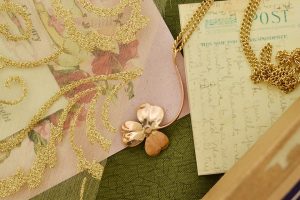 By simply removing the pin stem and then giving the brooch a ninety-degree turn – an elegant new pendant was born.  In a genius move, we decided to hide the bail behind the stem.  I love that we were able to keep the original line of the brooch, it's simple perfection.  One small Old Mine Cut diamond is nestled deep between the three leaves of the clover adding a little sparkle.  Priced at $825.00, this 14-karat yellow gold necklace won't last long.  Hop on over to our site for more details.
"You can go to a museum and look or come to us and touch."
Written by Carrie Martin
Photos by Dana Jerpe