Joden Girl
Baubles, Bling and Quality Things
"Quality isn't just something that you see with your eyes, you also feel it with your hands.  After nearly twenty years in the business, when you hold an exceptional piece in your hands, you just sense it.  You know."
These words have proven to be the jumping off point for our Signature Series.  People ask how we know (often after just a glance) whether a piece of jewelry is genuine or costume, whether a sparkly stone is a diamond or a rhinestone or if a chain is karat gold or not.  In the simplest of explanations, it's years of experience.  Our eyes and hands have had years of hands-on training…  this is a valuable skill that can only be acquired with time.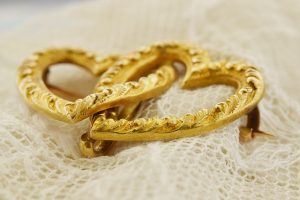 Unearthed from a heap of random estate jewelry, this dainty brooch is the cream of the crop.  Small in size (measuring a little over an inch at the widest point), its big on style.  An entwined pair of 14-karat yellow gold hearts are tilted at opposing angles creating a charming yet simple appeal.  The entire surface of the brooch features fanciful repoussé-like scroll-work.  This unique textured finish is an identifying characteristic of Art Nouveau jewelry.  I spied it immediately and nabbed it to share here.
Upon flipping the pin over, two crisp hallmarks are visible on the back.  One indicating the karatage of the gold and the other is a stylized sword – the makers mark for Riker Brothers.  Founded in Newark, New Jersey, this family firm is widely considered to be one of the most successful brands in American jewelry history.  Known for exceptional quality, Riker Brothers was most famous for griffin (a.k.a. dragon) pins and surface patterns on gold, like the one on this twin heart piece.
In the 1890's and early 1900's, these gold brooches were the lifeblood of the Riker Brothers firm.  Now, more than 100 years later, these antique beauties are highly collectible.  This one is priced at just $400.00.  It's lovely as is…  but would also convert to a great necklace.  Stop in and check it out for yourself…  and watch for it to pop up on our site.  ♥♥
"You can go to a museum and look or come to us and touch."
Written by Carrie Martin
Photos by Dana Jerpe