Joden Girl
Baubles, Bling and Insider Information
This week, we're focusing on the newest member of the Joden staff.  Beverly re-joined our team just three months ago; but much like myself, it's her second time around.  She spent nineteen years with the company in the 1980's and 1990's.  I have had the great pleasure of working with her both times. Beverly's smile is contagious and her outgoing personality makes her a favorite with our customers.  
One of the most important aspects of our job is making connections.  Good salesmanship is about listening to the wants and needs of the customer then finding the perfect piece to fulfill those wishes.  Key factors in the process are a strong grasp of the inventory, the vision to re-imagine a potential piece and the ability to really understand what the customer is saying.  This is Beverly's area of expertise.  In fact, more than one customer has remarked on her keen ability to read their mind!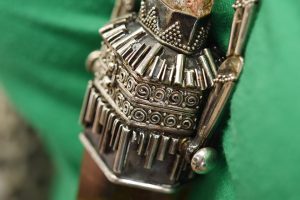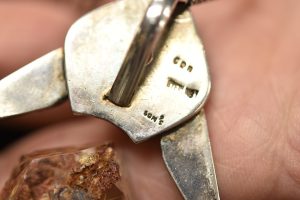 Boasting thousands of pieces of jewelry, the treasures at Joden abound.  Whether you're looking for something as simple as a pendant chain or a true one-of-a-kind antique gem from the Victorian era… there's no doubt that Joden has both and everything in between.  Beverly affirmed that this is the very thing that sets our store apart from all the others.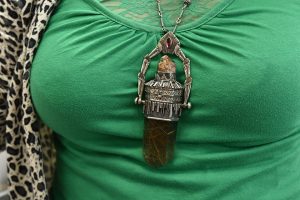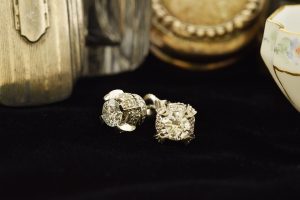 When asked to choose her most and least favorite pieces, these are the two things that Bev selected.  First is a large amulet-style pendant from the 1990's.  Handmade from sterling silver, this unusual piece measures 6 inches from top to bottom and over 2.5 inches across.  A cognac colored rutilated quartz crystal forms the bottom of the pendant.  Distributed randomly throughout this unique gem are needle-like inclusions that enhance the value and beauty of the stone.  Hinged in the center, the top portion opens to reveal a hexagonal hidden compartment.  Signed "Som's," it was designed by Zack Hart.  His vision was brought to life by the artisan Kadek.  This limited edition was one of only thirty pieces made and is available now for just $1,500.  
Beverly's second selection is this pair of platinum diamond earrings.  Made to resemble tiny crowns, these remarkable earrings are set with a matched pair of round diamonds that have a combined weight of 1.30 carats.  There are fifty-six more diamonds set within the arches and band of each crown that offer an additional .50 carat of sparkling brilliance.  Not your typical diamond stud earrings, these uncommon gems are priced at $3,350.00.  
You might have a guess as to which of these two is Bev's most favorite and which is her least favorite.  The answer just may surprise you!  If you drop by the showroom, you're likely to catch her wearing the silver amulet – she loves it and relishes every opportunity to enjoy it.  As for the diamond earrings, they're not big enough to satisfy Bev's larger-than-life style.  As far as diamonds go, her philosophy is "the bigger, the better"!
When I asked Beverly to reveal something that people don't know about her…  she couldn't think of a thing and called herself an open book.  Drop by the store and introduce yourself to Beverly, the newest gem at Joden. 
"You can go to a museum and look, or come to us and touch."
Written by Carrie Martin
Photos by Dana Jerpe