Joden Girl
Baubles, Bling, and The Latest Things
Pearls are one of those things for me…  99% of the time, they aren't my style.  Although I am in awe of how they're formed, I'm just not a pearl girl.  I own one strand – it's choker length, comprised of a series of creamy colored very small beads.  I pull it out of my jewelry box once or twice a year, most often to layer it with another necklace.  However, every once in a very long while a particular strand will attract my attention.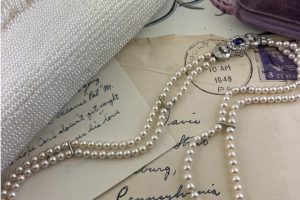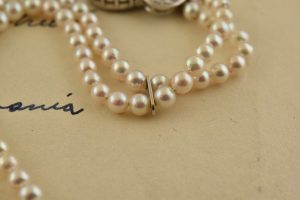 This double strand is the epitome of elegance.  Laying at the base of the throat, these perfectly matched orbs offer luminous shades of ivory, cream and soft pink.  Measuring between two and three millimeters each, these lustrous beads are strung on silk cord.  There are five 18 karat white gold bars that provide structure to the necklace.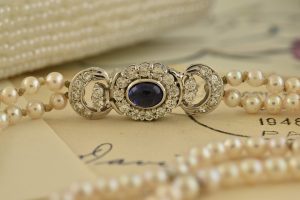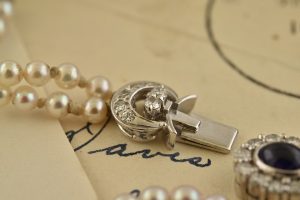 The clasp is the true star of this show.  Made from 18 karat white gold, it's the perfect decoration for this traditional design.  Bezel set in the center is one small oval sapphire.  This cabochon beauty is set east/west and weighs approximately .50 carat.  Surrounding this sapphire in halo style and accenting the remainder of the piece are twenty-six round brilliant diamonds that have a combined weight of .50 carat.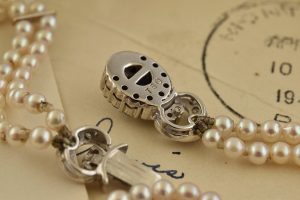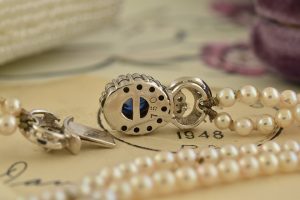 Perfect for a new bride, a high school or college graduate, or perhaps a milestone birthday – this necklace is on our website for $2,250.00.  Where do you stand – are you a pearl lover?  And if you are, what occasion would you wear these gems for?  
"You can go to a museum and look or come to us and touch."
Written by Carrie Martin
Photos by Dana Jerpe