Joden Girl
Baubles, Bling and Artistic Things
The years between 1890 and 1910 were arguably some of the most creative and organically opulent in jewelry history.  Explosions of multi-colored flowers, trailing leafy vines and curvaceous golden whiplash lines were the backbone of the Art Nouveau era.  Inspiring and perhaps molding some of the most celebrated jewelers of the past 150 years, the end of the 19th century and the beginning of the 20th century is my absolute favorite period.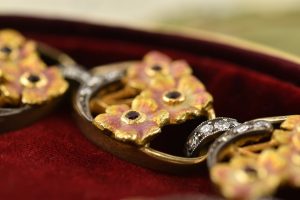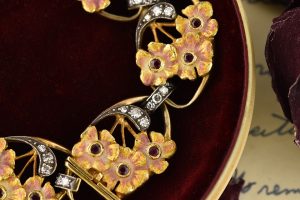 Brooches and small pins were the most popular works of the time.  Bracelets are more rare, and this week's offering is a true work of art.  Measuring 7 inches from end to end with seven identical links that house a cleverly hidden clasp, this beauty is a botanical masterpiece.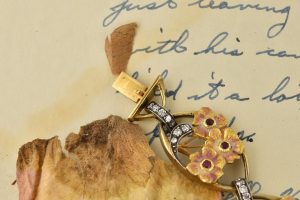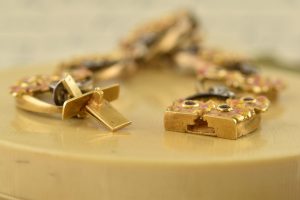 The bracelet features an 18 karat yellow gold frame with a series of silver accents (a nod to the Victorian era).  In the form of an elegant oval, each open link is decorated with a spray of three enameled pink flowers.  In the center of each one is a deep red bezel set round ruby.  There are twenty-one rubies with a combined weight of approximately 1.00 carat.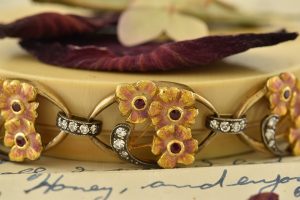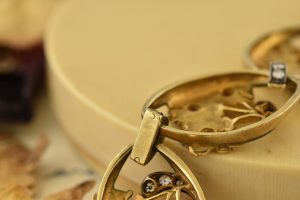 Nestled deep within the rich patina of the silver accents are fifty-six single-cut diamonds that offer 1.25 carats of sparkle.  With large open expanses, delicate rosy pink flowers, fine rubies and glistening diamonds – this bracelet strikes the absolute perfect balance.  It's sizable enough to be noticed but the overall aesthetic feel of the bracelet is quite feminine.  Although this bit of arm candy has a light and airy appearance, in reality it's got real weight.  It's solid and very wearable.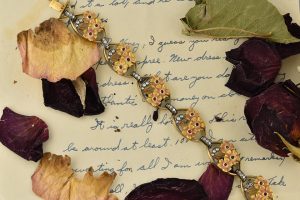 A perfect addition to your spring and summer wardrobe, this piece is moderately priced at $5,500.00.  Add a nuance of Art Nouveau to your life by dropping by our store and making it yours!  If you aren't local, we'd love to chat with you through one these options:
Call us at 1-800-747-7552
Send us a text at 724-699-1932
Send an email to joden@joden.com or carrie@joden.com 
"You can go to a museum and look, or come to us and touch."
Written by Carrie Martin
Photos by Dana Jerpe