Joden Girl
Baubles, Bling and Quality Things
In our never-ending quest to find fresh pieces for social media and the website, Dana and I dig through hundreds of pieces.  We get ridiculously excited over new lots of estate jewelry and can't wait to show each other all the best bits.  When something catches my eye, the first thing I do is go over it from top to bottom.  Loupe in hand, I eyeball every inch of it… are there any missing stones?  Does it need prong work?  Do the finishes and textures need touched up?  Is the karat weight of the gold stamped on the metal? 
Quality isn't just something that you see with your eyes, you also feel it with your hands.  After nearly twenty years in the business, when you hold an exceptional piece in your hands, you just sense it.  You know.  Just last week, I picked up this seemingly simple ring.  
I was struck by the color of the emerald.  My first thought was "must be a synthetic stone".  As I brought it up to my eye, my curiosity was peaked.  Under the magnification of my loupe, I could see a couple tiny marks within the bright green gemstone.  After showing it to Jay, he assured me that the emerald is genuine – and it's a stunner.  The deep green color of the stone combined with the clean clarity grade is everything you want in an emerald.  It weighs approximately 1.01 carat.  Winking from each side of this stone are a pair of round brilliant diamonds that have a total weight of .10 carat.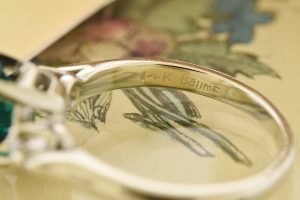 Looking inside the ring, it all becomes clear.  Right beside the 14K is a crisp maker's mark… "BaumF".  This stamp is the signature of a popular Mid Century Modern designer Baumstein and Feder.  The New York firm reigned from the 1940's-1980's, they were known for superior quality and spectacular gemstones.  Supreme quality is the mark of our signature series, each piece crafted by a well-known designer.  This beauty is on our site for $3,150.00.  Click on over to our site to see what all the fuss is about.
"You can go to a museum and look, or come to us and touch."
Written by Carrie Martin
Photos by Dana Jerpe