Joden Girl
Baubles, Bling and Matching Things
One of my favorite parts of writing the blog is learning something new…  sometimes it's like playing detective!  The first step is to check the piece from top to bottom for overall condition and quality.  While I'm doing that, occasionally I find a little clue – like a hallmark.  Today was one of those days; I found a crisp manufacturer's mark, a block style HL.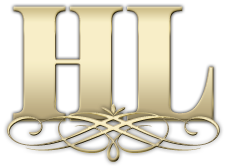 It's the maker's mark for HL Manufacturing.  This family-owned business is located just outside of Detroit in Utica, Michigan.  Marketing itself as a contemporary small city, Utica offers all of the modern conveniences all the while maintaining their small-town charm.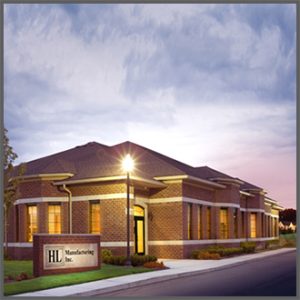 It's the perfect home for HL – where their vision has remained the same for over forty-seven years… 
"At a time when it seems as if all manufacturing was moving overseas, we kept everything right here in Michigan.  We believe "Made in USA" still means something."

They are SO right.  With less than twenty employees, HL Manufacturing has built a reputation for design and service.  They create modern jewelry of the highest standards right here in the United States.  ♥
This three-piece suite is just that.  Made from 14-karat gold, this trio consists of a bracelet, a pair of earrings and a pendant that can also be worn as a slide.  Collectively, these pieces feature thirteen fancy-cut garnets.  Each deep red stone is rectangular in shape with a rounded top and unique faceting patterns.  Channel-set, these gems offer approximately 15.00 carats of scintillating sparkle.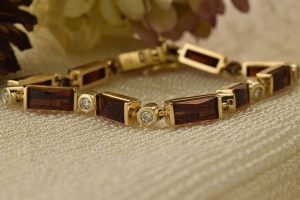 Further accenting the clean lines of this modern design are sixteen round brilliant diamonds.  Ten of them are bezel set in 14-karat white gold in the bracelet while the remaining six decorate the top of each earring and the pendant.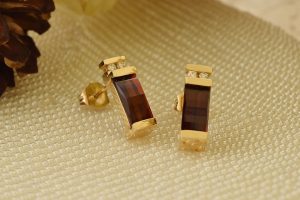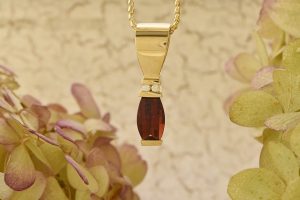 With a total weight of approximately .62 carat, these diamonds add a perfect final flourish to this threesome.  The pendant also stars another detail that adds versatility.  The bail is broad and tall allowing it to be worn on a simple chain, an omega collar, a silk cord or even a tiny strand of pearls.  
This suite is simply too sweet, and it's the latest addition to our estate department.  Available in our showroom for $3,250.00, it's a luxurious way to celebrate a January birthday!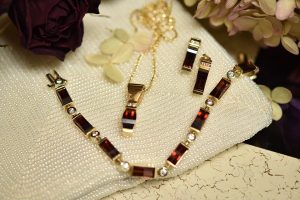 "You can go to a museum and look, or come to us and touch."
Written by Carrie Martin
Photos by Dana Jerpe