Joden Girl
Baubles, Bling and the Latest Things
I love it when we get "new" old goods…  excitement bubbles up inside me when I'm digging through a tray of fresh inventory!  It's the best kind of treasure hunt.  I'm not always the first one to ogle these charming trinkets –   sometimes they make it into our inventory without me ever laying eyes on them!  This is a travesty that I strive to avoid.  How can I call "dibs" on the merchandise if I don't even see it?!?!  Yesterday, I uncovered a real gem – I am so smitten!
Handcrafted from 9-karat yellow gold near the turn of the 20th century, this delicate bracelet is a refined beauty.  Measuring seven-inches in length, it showcases a glorious array of colorful gemstones.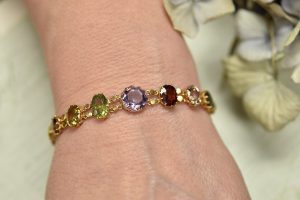 With eleven natural gemstones nestled in fine claw settings, this Victorian harlequin bracelet speaks with quiet elegance.  Individual hinges between each link allow the bracelet to curve to the wrist.  Varying in size and hue, each stone offers its own unique appeal.  The layout from left to right includes a pink sapphire, a chrysoberyl, a citrine, then a zircon and one peridot, a round amethyst center, a garnet, then another zircon, a green tourmaline and a catseye and finally one pink tourmaline.  It's a captivating kaleidoscope of color.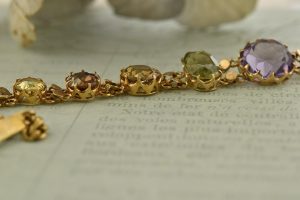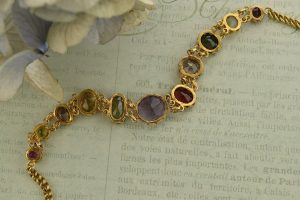 A tiny curb-link chain and clasp finish the length of the bracelet.  In excellent condition, this authentic antique is priced at $2,175.00.  There is not one thing that I would change.  It's perfect.  ♥
"You can go to a museum and look, or come to us and touch."
Written by Carrie Martin
Photos by Dana Jerpe