Joden Girl
Baubles, Bling and  Filigree Things
Trends come and go in the jewelry world.  Some of them are gone before we have a chance to enjoy them and others become instant classics – like these navette rings.  These elongated filigree rings are highly sought after and VERY desirable.  Every time we post a photo of one of these ethereal beauties on social media, it blows up. 
These two gems are both from the Art Deco era (1915-1935), one a bit earlier than the other.  Both rings are made from 18 karat white gold and both feature intricate filigree patterns.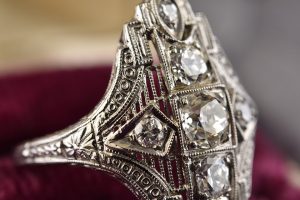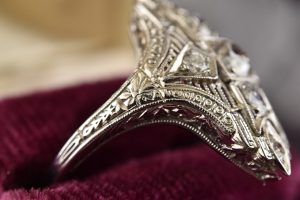 Five Old European Cut diamonds create a vertical line down the center of the ring with one additional stone on each side.  These seven diamonds have a combined weight of 1.00 carat.  These gems glitter in the center of a very architectural, classic Art Deco setting.  Milgrain beaded lines create a gridwork in the background, while the outer edges are lined with complex patterns of engraving.  This engraving is still crisp and in excellent condition.  Made in the 1920's, this dazzling beauty is moderately priced at $2,200.00.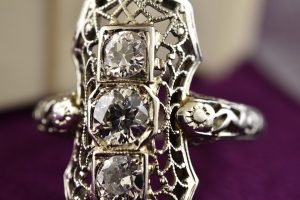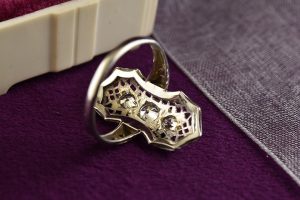 Then, we have this little charmer…  With an hourglass shape, this ring is oh-so-feminine.  Three bright white diamonds are fitted to the middle of the ring.  They draw the eye, creating a focal point.  Engraved into the top of each shoulder is a flower, complete with stem and leaves.  The background pattern of this antique is a woven wirework of loops and swirls.  Priced at $1,340 – this dainty ring won't last long.  
If you've been pining for a navette ring – these are just two of the unique choices that we have available at Joden.  With distinct details, each one presents an exclusive look that is entirely you.  This year, treat yourself to something special – an heirloom ring that will continue to be handed down in your family for generations yet to come.
Written by Carrie Martin
Photos by Dana Jerpe