Joden Girl
Baubles and Bling with Unbelievable Pricing
Almost everything that I wear to work is black…  pants, skirts, cardigans, boots.  It's easy.  It goes with everything.  Black has become my uniform; and let's face it – I feel more comfortable and confident when I wear black.  I slip into a pair of my favorite pants, throw on a blouse with a long cardigan and "Bam!" – I'm ready to conquer the jewelry world.
Accessorizing is just as simple…  you can pair your dark-hued wardrobe with anything in your jewelry box.  Sterling silver, platinum, or gold of any color.  It all looks great.  The holidays of 2020 brought a new trend to our attention…  earrings were undoubtedly THE gift of choice.  With so many people working from home and logging onto virtual meetings – one of the only visible accessories are earrings!  Everyone wants some fantastic ear decor – and if they sparkle and have a bit of movement…  that's even better.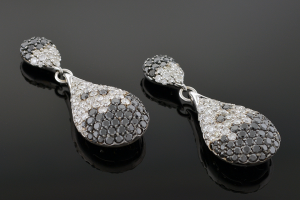 These beauties are sure to dazzle everyone in your Google meet.  Made from 18 karat white gold, they dangle enticingly about an inch below the earlobe.  A striking array of round brilliant black and white diamonds cover the entire front side.  One hundred and twenty black diamonds combine with one hundred and eight white diamonds for a total weight of 5.35 carats!  
These are not small stones, each one is clearly defined.  I love the clever pop of the two black sparklers in the center of the pattern.  This small detail brings a bit of whimsy and fun to these gems.  A year ago, we might have thought these were too fancy for every day.  They might have been reserved for going out.  The evolution of virtual meetings and working from home has changed all of that!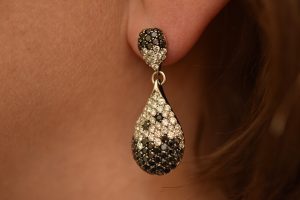 Originally priced at $6,500 – these earrings have been on our site for over a year.  We've hand selected them to be a featured Pick of the Week.  If you've been following along for the past few months, you know what that means.  If you're new to us – here's the scoop.  A Pick of the Week is an old favorite that is being offered at an updated price.  You can make these earrings yours for just $2,900! 
Light up your Zoom meeting with more than your sparkling personality – bring the bling with these beauties.  Available exclusively on our site or in our store. 
Written by Carrie Martin
Photos by Dana Jerpe