Joden Girl
Baubles, Bling, and A Collector's Things
The timeless beauty of yellow gold is back in a big way.  With warm rich tones, this buttery metal is everything that you've been dreaming of.  Combine it with crisp white gold trim – the partnership sings in harmony.  The striking duo of 14 karat white and yellow gold has been popular for more than one hundred years.  The Edwardian Era was noted for some of the most remarkable two tone jewelry of the last century.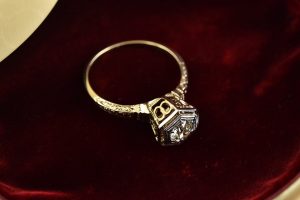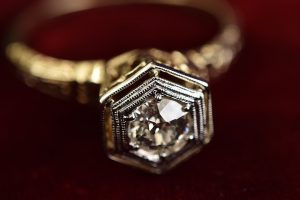 This antique beauty from Joe's Special Box is one of the prettiest engagement rings that I have seen in quite some time.  It packs a powerful punch for a ring with less than a half carat center stone.  This .40 carat Old European Cut diamond sparkles within the hexagon-shaped top.  The unique triple-banded milgrain border amps up the volume in this not-so-simple solitaire.  
Sitting tall on the finger, this bit of bling features a filigree accented head and an intricately engraved band.  The etched pattern spans the entire top half of the ring; the bottom half gleams with a plain, high-polish shine.  The half-round style offers the ability to fit this gem to nearly any finger without altering the beauty of the engraving.  Tapering gracefully from the center stone, the ring is absolutely stunning on the hand.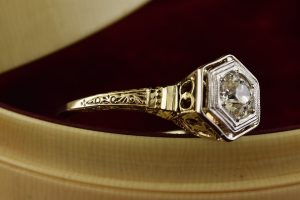 With so many charming details – you must be wondering about the price of this ring.  You'll be pleasantly surprised to know that it can be yours for just $950!  All that beauty for under $1000 and available exclusively at Joden. 
"You can go to a museum and look, or you can come to us and touch."
Written by Carrie Martin
Photos by Dana Jerpe