Joden Girl
Baubles and Bling with Unbelievable Pricing
Fall is making an early appearance in Pennsylvania…  warm golden tones are popping up everywhere, including engagement rings.  In the last few weeks, we've had more and more requests for yellow gold diamond rings.  Customers are craving modern designs made from rich buttery yellow tones.  
Kicking off September, we have an ultra-modern Pick of the Week…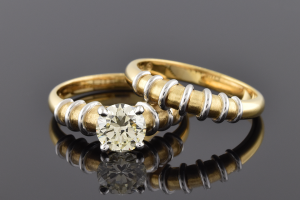 Dual textured 18 karat yellow gold is the basis for this unusual wedding set.  Crafted with slightly wider shanks, this pair features a satin finish on the top half with a high polish bottom.  A series of platinum wires embellish both pieces, bringing an industrial vibe to this contemporary creation. 
Although there is just one diamond, this is no ordinary solitaire.  A .91 carat round brilliant sparkler sits center stage.  And the gilded tones continue… this beauty amps up the heat with a warm body color.  It's graded as an M-N, an ideal complement to the yellow gold ring.  The clarity grade is nothing to sneeze at either, tipping the scales at VS1-2.  
This bridal suite has been listed on our site for $3,900.  But now, as the Pick of the Week – it's available with new unbelievable pricing… buy it today for just $2,920!  That's a 25% savings!  Don't wait, hop on over to joden.com and make it yours today.
"Go to our site and look, then come to Joden and touch."
Written by Carrie Martin
Photos by Dana Jerpe