Joden Girl
Baubles, Bling and Throwback Things
At Joden, we have a lot of jewelry… like staggering, phenomenally large, and sometimes overwhelming quantities of baubles and bling.  While that is certainly a bonus, it comes with a drawback or two.  With thousands of pieces in our inventory, it's easy to become immune to the individual beauty of each gem and jewel.  Add in nearly twenty years of personal experience in the jewelry field – and you can begin to imagine just how much jewelry I have seen.  
Guests at Joden are always mentioning how hard it must be for us to work with so much fabulous and oh-so-tempting jewelry.  Do they often wonder if we ever manage to take home a paycheck?!?!  The answer to that question is yes, of course…  although they might be slightly diminished due to a particularly alluring piece!  ♥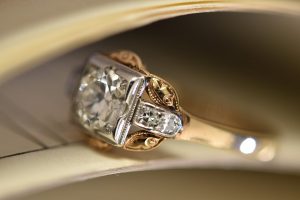 With such bounty at our fingertips, Dana and I are constantly on the lookout for the next hot item to share with all of you.  Some jewels are ideal for a quick Instagram post while others are more suited to the blog, like this beauty.  The first time I saw it, I pulled it out of the bag.  After slowly turning it over in my hand, I slid off my own ring stack to slip this on.  I was enamored.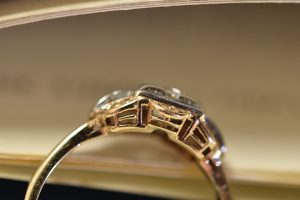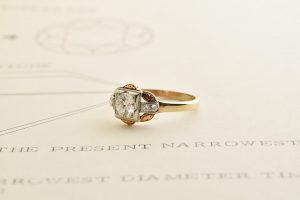 Made in the 1940's, this ring speaks with quiet elegance.  Like most things from the Retro period, it features a two-tone style.  14 karat yellow gold with just a whisper of a rosy glow is perfectly complemented by cool platinum trim.  The center stone, a .65 carat European cut diamond shimmers within a classic square setting.  It's a real gem…  H in color and SI2 in clarity.  Four single-cut diamonds are nestled into the shoulders, two on each side of the center.  Adding a bit of subtle charm are four delicately engraved leaves.  This is not a ring that knocks you over the head but rather sings softly to your heart.  It's timeless.
If you're looking for an engagement ring that has stood the test of time, look no more.  Originally priced at $3,320 – this ring has just been price reduced to $2,380!  Call us for additional details on this steal of a deal!
"You can go to a museum and look, or come to us and touch."
Written by Carrie Martin
Photos by Dana Jerpe