Joden Girl
Baubles and Bling with Unbelievable Pricing
When it comes to engagement rings, it isn't just about the center stone.  Although, the diamond is the star of the show – I am a sucker for unique details.  The small elements that make a ring extraordinary and oh-so special.  At Joden, we hand select every ring in our engagement case – from vintage to modern, each one has a secret to reveal. 
This contemporary classic is no exception.  Shown here from the top and the side, a 1.14 carat round brilliant diamond dazzles from within a row of smaller diamonds; each one set with "bead and bright" technique.  Very pretty, but not unusual….  in fact, quite traditional so far, right?  
One small turn, and the secret is revealed.  The center diamond is set with four 14 karat yellow gold prongs.  This may seem like a tiny detail, but it's actually an integral part of what makes this ring truly shine.  Weighing more than one carat, this diamond is slightly tinted…  the actual color grade is L-M.  The yellow gold prongs brighten the light golden tone of the center stone.  Additionally, the bridge work of the gallery is also done in 14 karat yellow gold.  This uncommon element is a direct link to the prong work, making the bi-color cathedral setting complete.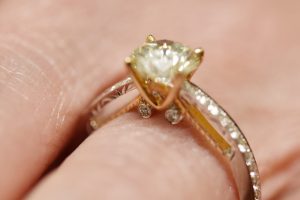 Now, peep my favorite part…  two bezel-set little diamonds showcased on the outer edges of the ring.  With a total weight of just .02 carat, this is definitely a very small and yet important element. 
Priced at $7,250.00, this beauty has been available on www.joden.com for awhile.  Today, as our Pick of the Week, we are offering it for the discounted price of $5,800!  Personally, I think shopping online for fine jewelry is challenging.  It's such a personal experience – needing to be seen and touched.  At Joden, we want to make it simple and completely risk free!  We offer a five day return policy on all purchases.  So – don't hesitate.  Press that buy button! 
"You can go to a museum and look, or come to us and touch."
Written by Carrie Martin
Photos by Dana Jerpe and Shelly Isacco